Industry meets emerging science: Highlights of interdisciplinary response to the pandemic
From IP management to machine learning and audio diagnostics; technical solutions, social sciences approaches and collaboration with clinical experts have come together to overcome the challenges of the pandemic. Effective tackling of COVID-19 requires agile approaches and flexibility to deploy existing knowledge in unprecedented ways and at a very fast pace. This event presents two highlights where University researchers and their partners made a difference.
Date
Thursday 2nd July
Time
2pm - 3pm
Venue
Online
Email
louise.rushworth@cambridgenetwork.co.uk
Cost
Free for anyone to attend

Cambridge Network and the University of Cambridge's Maxwell Centre are delighted to invite you attend this webinar highlighting two university researchers who have contributed to controlling the spread of the COVID-19 pandemic.
Mobile Health Diagnostics through Audio Signals, Cecilia Mascolo, Professor at the Department of Computer Science and Technology.
"Audio has been used for centuries by doctors as diagnostics technique. In this talk, I plan to reflect on the challenges and opportunities that using audio sourced from mobile and wearables could offer in terms of automated diagnostic tools for disease and progression. I will use examples from my group's ongoing research on exploring devices collecting audio signals (as well as other more traditional signals) from the human body to understand, track and diagnose health, in particular a case study on COVID-19 (covid-19-sounds.org) we have been working on since the outbreak. I will also talk about the machine learning and data analysis challenges imposed by this sort of data using examples from our collaborations with epidemiologists and clinicians."  
Unpacking Intellectual Property challenges during the Covid-19 pandemic, Frank Tietze, University Lecturer at the Institute for Manufacturing (IfM)
"Have you ever wondered what intellectual property (IP) got to do with a crisis? When the Covid-19 pandemic started to emerge we started asking this ourselves, particular my team at the Innovation and IP Management (IIPM) Laboratory. When unpacking what IP got to do with the Covid-19 pandemic we found quite a number of IP associated challenges. Probably, the most obvious one is related to the IP associated with any future vaccine. However, we learnt that this is by far not the only IP associated challenge in such highly turbulent and dynamic times that decision makers in companies and governments should be aware of. During this talk I will share with you the insights we gained during the past months, such as IP challenges resulting from changing industrial organisational structures during the pandemic caused by new constellations and partnerships being formed because of Covid-19 manufacturing repurposing. The talk provides initial recommendations for decision makers that consider IP as a potential policy tool, such as the Open Covid Pledge (www.opencovidpledge.org). A number of technology corporations and university have already pledged to make their IP freely available during the pandemic."
The session will take place at 2pm - 3pm on Thursday 2nd July. Please sign up to take part! Participants will be sent a link to join via Zoom prior to the start time.
You may also like: Risks and real-world issues with connected devices, 7th July
This Industry Meets Emerging Science session is organised jointly by: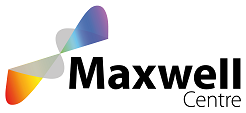 The Maxwell Centre is the centrepiece for industrial engagement with the physical scientists and engineers working on the West Cambridge Science and Technology Campus. Two-way flow of ideas and researchers adds value when 'blue-skies' activities meet research objectives relevant to economic opportunities for industry and society at large. https://www.maxwell.cam.ac.uk/our-vision
Cambridge Network is a membership organisation based in the vibrant high technology cluster of Cambridge, UK. We bring people together - from business and academia - to meet each other and share ideas, encouraging collaboration and partnership for shared success.
When
July 2nd, 2020 2:00 PM to 3:00 PM
Location
Online, via zoom
United Kingdom
Event+
| | |
| --- | --- |
| URL | industry-meets-emerging-science-highlights-of-interdisciplinary-response-to-the-pandemic-02072020 |
| | |
| --- | --- |
| Show in main event list | TRUE |
| | |
| --- | --- |
| Contact Name | Louise Rushworth |
| | |
| --- | --- |
| Event Image | |
| | |
| --- | --- |
| SEOheading | University Covid Research |