B2B marketing in post COVID-19 China [Webinar]
We will be joined by Jiao Li, Co-founder of Crayfish.io, who will explore current B2B marketing in China, and take us through the steps to successfully reach a Chinese audience

Under the impact of COVID-19, Digital Marketing becomes the safest and most efficient marketing and customer acquisition tool. As a British B2B brand that wants to expand in China online, where do you start? What is the best way to reach your target audiences? How do you define a plan of action for Social Media in China? How do you talk, reach and ultimately sell to this hugely exciting market?
Join us to explore how the pandemic is changing customer behaviour and marketing approaches, what are the latest trends in B2B marketing and how you could adapt to the changes.
During the webinar, you will:
Explore what has changed in B2B marketing under COVID-19

Hear an overview about how B2B has gone digital in China

Learn how to successfully use digital marketing for your B2B Chinese audience

Understand B2B digital marketing best practices to help your company build and sustain customer engagement
About the speaker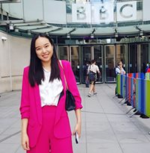 Jiao Li is Co-Founder of Crayfish.io, the leading multi-platform service provider offering expertise, connections and capital to enable businesses to achieve better engagement with China. Jiao joined Crayfish.io as the co-founder in 2018 and has led the marketing, sales, platform and product development for the company. She also assists clients with their China-related research, strategy development and marketing initiatives.

Having studied for a Finance degree at Nankai University, Jiao completed her MA (Operational Research) at London School of Economics before joining Unilever, where she spent six years working as E-Commerce and Digital Manager, leading cross-functional teams in the UK and China. She is a highly experienced ecommerce and digital marketing specialist, passionate about helping brands reach out and interact with Chinese audiences in a smarter and more engaging way.
The session will take place at 11am - 12pm on Thursday 24th September. Please sign up to take part! Participants will be sent a link to join via Zoom prior to the start time.
To attend:
Members: Any Cambridge Network member may attend free of charge (check for full membership in our Directory). Click on Book Now, then click the login link on the next page to receive your member discount. Alternatively, please drop sara.baxter@cambridgenetwork.co.uk an email and she will book you on.
Non-members: Non-members may also attend this session at a fee of £10+VAT. You may wish to join as a member from £50+VAT and come along to many other events for free or at member rates!
Cambridge Network is a membership organisation based in the vibrant high technology cluster of Cambridge, UK. We bring people together - from business and academia - to meet each other and share ideas, encouraging collaboration and partnership for shared success.
When
September 24th, 2020 11:00 AM to 12:00 PM
Event Fee(s)
Webinar fee non-member: £10.00
£ 10.00

+ £ 2.00 VAT