Cambridge NERC DTP
The Cambridge NERC Climate, Life, Earth and Atmosphere (C-CLEAR, proposed for 2019-onward) and Earth Systems Science (ESS, 2014-2018) Doctoral Training Partnerships are embedded in the outstanding research environment of the University of Cambridge and the British Antarctic Survey (BAS) and provide PhD training across NERC science
Address :
Department of Earth Sciences University of Cambridge Downing Street Cambridge
Membership Type:
Corporate 51+
The partners in the Cambridge NERC DTP include:
The British Antarctic Survey and
The following University of Cambridge Departments:

Earth Sciences
Chemistry
Applied Mathematics and Theoretical Physics
Genetics
Plant Sciences
Geography
Zoology
Archaeology
Students in the Cambridge NERC DTP cohorts engage in research projects of global significance across the physical, chemical and biological sciences, and receive high-quality training in research, professional, technical and transferable skills.
We invite members of the Cambridge Network to collaborate with the Cambridge NERC DTP, this could take many forms including:
Devising projects with our supervisors where we have shared interests (see our list of staff and partners). This includes collaboration on CASE studentships, where a non-academic partner hosts the student for a duration of three to eighteen months and is involved in co-supervising the studentship. CASE partners make a small monetary contribution to the project (£1,000 per annum).
Involvement in both developing and delivering our comprehensive training programme: Advances in Climate, Life and Earth Science.
Participation in NERC DTP social and networking events.
Representation by members of the Cambridge Network on our steering committees and management forum.
If you'd like to get involved we'd love to hear from you, please contact any member of staff or Yvonne Gibbs, DTP Administrator, at dtp-admin@esc.cam.ac.uk.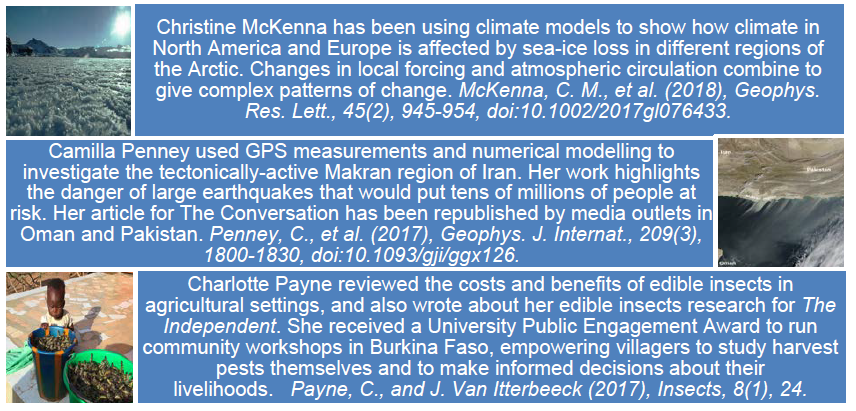 There are no Products & Services to display
There are no news articles to display
There are no events to display
There are no jobs to display