Cambridge Network Recruitment Event
If you are a job seeker looking for a new opportunity, make sure that you put this date in the diary!
The Cambridge Network Recruitment Event will be held at the PostDoc Centre, Eddington, Cambridge CB3 1AS on Tuesday the 26th November 2019, from 6pm - 9pm
Date
Tuesday 26 November 2019
Times
6.00pm - 9.00pm
Venue
Postdoc Centre, 105 Eddington Place, Cambridge, CB3 1AS
Organiser
Claire Angus
Phone
01223 760133
Email
claire.angus@cambridgenetwork.co.uk
Cost
FREE for Members | FREE for Non-Members

The Cambridge Network Recruitment Evening November 2019, will be the perfect setting for job seekers or individuals looking to progress within their current role, to network with local businesses or to ask recruitment experts for careers advice.
Headlining this event is Displaylink who will be presenting a talk on the night as well as exhibiting.
We will also be introducing careers and communications experts Sarah Cruise from Eloquential and Ulrich Seega from SANDPartners. They will be running joint workshops throughout the evening designed to assist you with your job search and career development. Thier workshops will cover:
The jobs market and importance of proactive career development
Differentiating yourself
Personal Impact
How to take a strategic approach
This event will be a mix of companies showcasing their job vacancies and offering careers advice.
Exhibiting companies include:
Cambridge Support
Watch this space as our event grows.
Job seekers: This event is free! Make sure you sign up to attend, you will recieve regular updates as the event grows.  
Employers: If you are recruiting or just want to raise your profile, please get in touch for details of how to exhibit or sponsor this event - claire.angus@cambridgenetwork.co.uk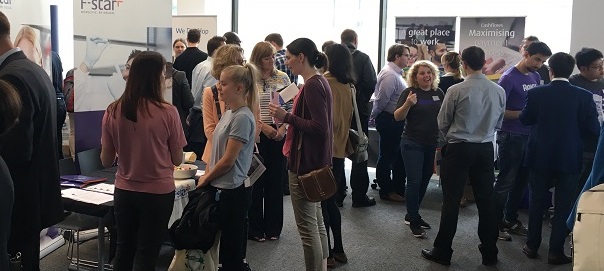 When:
November 26th, 2019 06:00 PM to 09:00 PM
Location:
Postdoc Centre @ Eddington105 Eddington PlaceCambridgeUnited Kingdom