Public Speaking Qualification (online training programme)
Outline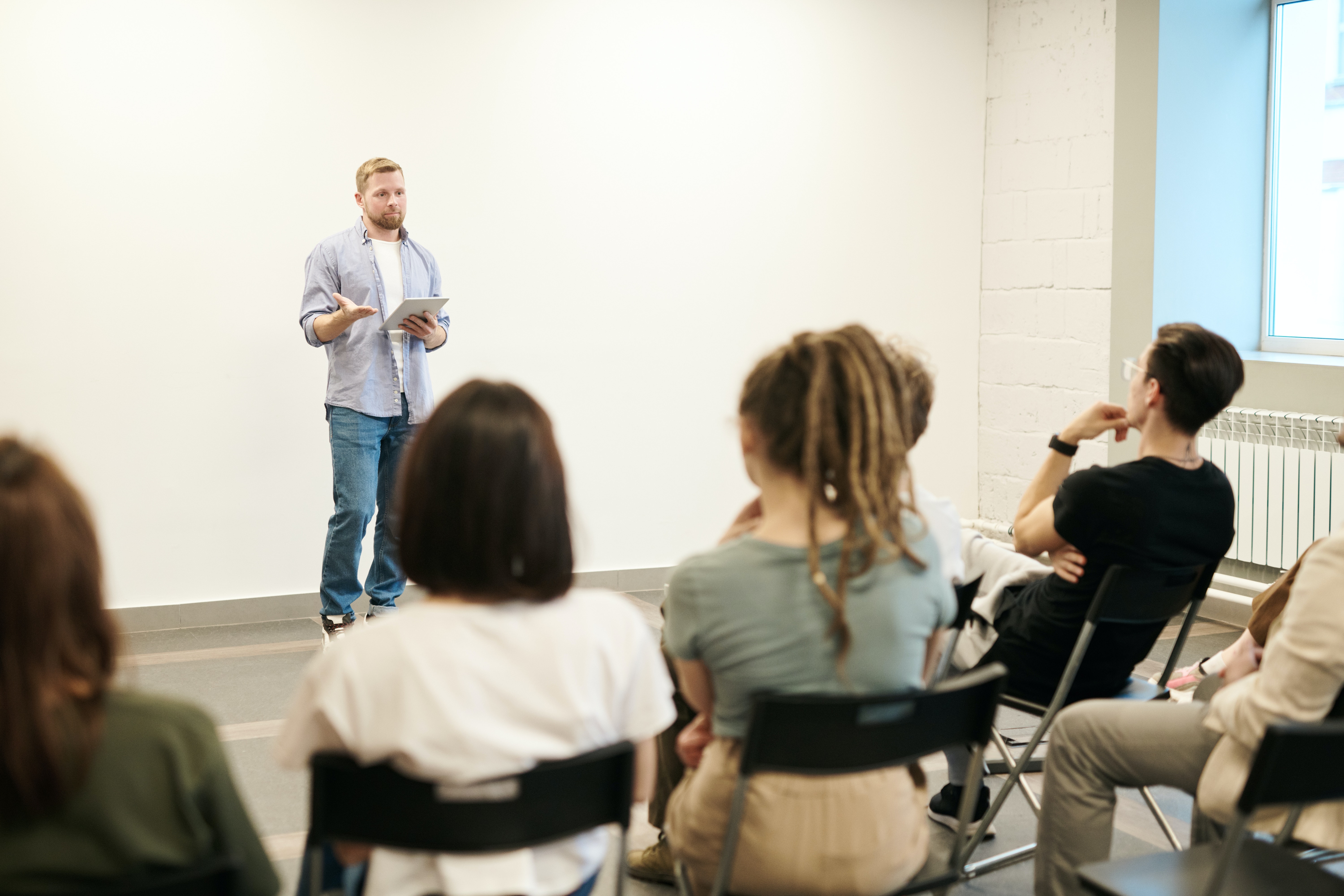 This programme offers the opportunity to gain a nationally recognised professional qualification, equivalent to an A-Level, in Public Speaking. This provides you and your employers with significant proof of your achievement, and helps you stand out from the crowd when applying for a new role or promotion.
The examination requires you to give two prepared speeches, one impromptu speech, respond to questions, and discuss the skills and techniques involved in public speaking.
Content
This programme covers all aspects of creating and delivering an effective speech whilst ensuring that all theory is applied to prepare you for the exam:
models, theories and techniques to create engaging content
different styles of speech and adaptation according to aim, situation and audience
speech production and vocal performance
visual engagement through non-verbal behaviour, objects and other visual aids
Format
Learning to be a good public speaker is similar to learning to be a good musician. It takes time and regular practice. This programme follows a similar pattern to music lessons. with short group theory sessions every month and individual practice sessions spread over an academic year. There is then the opportunity to sit an external exam at the end of the programme. This spaced repetition approach to learning is shown to be most effective in gaining skills with long-term retention and essential for building confidence and experience.
Given the practical nature of this skill and the short intensive sessions involved in the programme, groups are kept small (max 9) to ensure sufficient time for individual focus. This also helps to build a social and supportive nature to the programme enabling the group to benefit from each other's knowledge and experience.
All workshops and coaching are run online using the Zoom platform.
Theory workshops take place on the first Thursday of every month at 11-12:00 (apart from the initial workshop in September which is in the third week and is slightly longer 11:00-12:30)
Each individual has access to 15 hours worth of individual coaching with video review and unlimited email support
Course Details
Sessions: 11 
Credits: 4.6

Dates: 
2020 - 17 Sept,  1 Oct, 5 Nov, 3 Dec

2021 - 7 Jan, 4 Feb, 4 Mar, 1 Apr, 6 May, 3 Jun, 1 Jul

Member Cost: £700.00+VAT

Times: 11.00am - 12.00pm

(Except first session to 12:30pm)

Non-member Cost: £1050.00+VAT