Crisis Communications Training Course
"It takes 20 years to build a reputation and five minutes to ruin it," said business guru Warren Buffett. And you need only look at United Airlines, and the bloodied and screaming passenger being dragged off one of their planes, BP and the Gulf oil spill disaster, or recently British Airways wrongly telling travellers their flights had been cancelled to see he's right.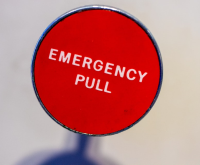 But it doesn't have to be that way, no matter what situation you're dealing with, from fire to data breach. Having crisis communications plans prepared in advance, the right team ready, and knowing what to say when your reputation is threatened can mean the damage is quickly forgotten, instead of long remembered.
 
Led by a former BBC News Correspondent, with extensive experience of public relations disasters, and now advisor to senior police officers, executives, and public sector leaders, this course helps protect your organisation's precious reputation before customers, investors, and partners desert you in droves.
 
The course is heavily interactive, based on a series of realistic scenarios, and includes:
The 3 stages of crisis communications; anticipation, action, aftermath
Stopping a crisis before it starts, by assessing and managing your risks
How to contain a crisis, instead of allowing it to become a catastrophe
Putting together and practicing effective crisis management plans
The crisis communications team, who should be on it, and their roles
Managing a crisis, minute by minute, and day by day
Key messages to spread in the event of a crisis, and the channels to use
How to turn media interest to your advantage
Managing the online reaction to a crisis
Cleaning up after a crisis, and the rapid restoration of your reputation
Learning the lessons of a crisis
| | |
| --- | --- |
| Duration: Half Day | Credits: 1.1 |
| Time: 9.30am - 12.30pm | Member Cost: £165.00+VAT |
| Max. Delegates: 12 | Non-member Cost: £248.00+VAT |
Image by Jason Leung on Unsplash.