Transition to Leadership Training Course
Outline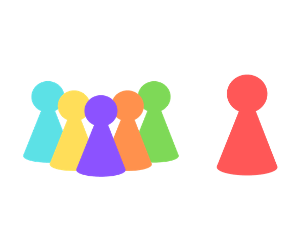 Promotion makes us managers - often with no management experience or training. We sink or swim and our people sink or swim with us. We have our natural leadership style but unless we are aware of it, we will be unable to flex when required and the morale and resilience of the team will be negatively affected.
This programme comprises of four virtual sessions (interactive, facilitator lead) combined with comprehensive pre and post exercises/activities structured and designed to optimise learning methods (job-related experiences, interactions with others and formal models and theory).
Very good examples and live interactions.  Good chance to learn from each other
Enjoyed the course a lot. Plenty to reflect on and digest. Think I've gained some useful skills I can apply at work
Objectives
To enable managers to develop an effective leadership "edge" (attitude/behaviours)

To know what to work on to create a high performing climate through a range of leadership behaviours/styles

To provide tools and techniques to lead through change

To become highly self-aware and be able to adapt self to achieve maximum potential of the team
Programme Content - 4 x 2.5 hour Sessions
Sessions

Content

Pre/Post work

Developing a Leadership Style

What makes a good leader (A/B/R)?

Charisma - how to develop it?

Leadership styles - pros and cons

Self-reflection

 

Alan Mulally – Working Together (YT)

Leadership that Gets Results (PDF)

Creating Compelling Stories 

Seeing the bigger picture

Identifying your Strategic Intent

Story boarding – Vision & Strategy

Purpose, Priorities and Projects

 

Analysis of your organisation strategic Intent – personal reflection

Driving Change

The leadership challenge – S Curve

Drivers to change – PESTLE

8 steps for transformational change

Tools and techniques (SWOT-TOWS)

The Leaders Role

 

Purpose, Priorities and Projects (h/w)

Kotter's Eight steps to success (PDF)

Case Study - CW

 

Emotional Intelligence  

EI defined

Awareness and Regulation

Social Styles – practical application

Leader as a coach – (A/B/R )

Introduction to the GROW model    

 

Social Style questionnaire

Personal coaching challenge
Next cohort:
8th, 10th, 15th and 17th March 2022 - 10am - 12.30pm on all dates.
Online Course Details
| | |
| --- | --- |
| Duration: 4 x 2.5 hour sessions | Credits: 4.2 |
| Max. Delegates: 9 | Member Cost: £630.00+VAT |
|   | Non-member Cost: £945.00+VAT |
*Membership from £50+VAT per annum - join now and save on training