Translating Complicated Concepts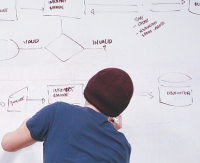 Outline
This half day course tackles the problems of translating complicated ideas and concepts into understandable terms for the non-expert.
It is intended for people whose job entails communicating to inform, educate and influence others.
The central route to persuasion requires us to have both the motivation to learn and the ability to understand, and this course will teach you how to facilitate understanding through use of logical flow, context, analogy, storytelling and connection to what people care about. Through engaging use of exercises we will put together a toolkit of ideas and resources that delegates can take away with them.
This was a wonderful course. Jackie was kind and very thorough, and the other participants were fully engaged. I learned a lot that I will take with me and implement into my own work going forward. Thank you so much.
Really enjoyed the course, a lot of food for thought! Thank you.
Content
Explanation of the route to persuasion and how our brain decides what's important

Giving people the motivation and ability to understand and engage with our material.

Filtering information to avoid overload

Achieving logical flow to make it easy for  our audience to follow an argument

Using analogy and metaphor to create 'aha' moments

Visuals and creating helpful slides
Course Details
| | |
| --- | --- |
| Duration: Half Day | Credits: 0.6 |
| Time: 9.30am - 12.30pm | Member Cost: £90+VAT |
| Max. Delegates: 12 | Non-member Cost: £135+VAT |
Image by StartupStockPhotos on Pixabay.