Global Inkjet Systems wins Queen's Award for Enterprise 2013
---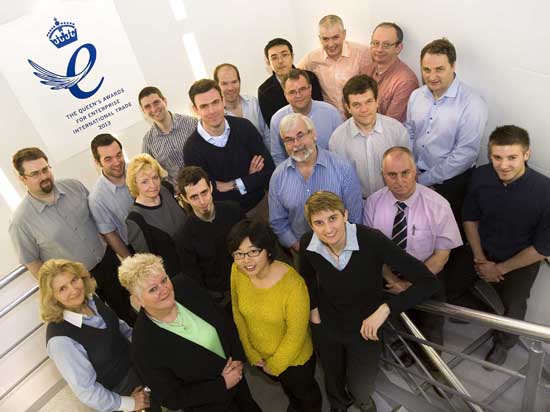 Global Inkjet Systems has received the Queen's Award for Enterprise 2013 in the International Trade category.
Global Inkjet Systems (GIS), a leading developer of software drivers and electronics for industrial inkjet printheads, has received the Queen's Award for Enterprise 2013 in the International Trade category. This prestigious award recognises the company's outstanding achievement in growing revenues from overseas markets in Europe, USA and Asia.
Eighty-nine percent of the company's total sales in 2012 were in international markets – an increase from 47% in 2010. Overseas sales growth was 132% in 2012.
 GIS technology is used in a wide range of inkjet applications including labels, packaging, ceramic tiles, product decoration, textiles and 3D printing systems.
 The core electronics technology is split into data handling, managed by the Print Manager Boards, and printhead control, managed by the Head Interface Boards, which allows many different printhead types to be driven off the same platform. 
 GIS software and electronics drive thousands of inkjet printheads in high performance single pass and scanning systems worldwide and support inkjet printheads from Fujifilm Dimatix, Konica Minolta, Kyocera, Ricoh, Toshiba Tec and Xaar.
 Nick Geddes, CEO of Global Inkjet Systems commented, "This award is a wonderful tribute to our staff, who are committed to developing and delivering innovative products and strong technical support to our customers worldwide.  We will continue to access new and growing markets to build on this overseas sales success."
 Founded in 2006, GIS has grown consistently in the past few years and now has a strong team of over 25 employees covering operations and R&D for software, firmware & electronics.  In 2012, GIS moved to a new 5,000 sq.ft. headquarters in Cambridge to facilitate further growth for the company - and also increased its global presence by opening a technical support office in China.
About Global Inkjet Systems
Founded in November 2006, Global Inkjet Systems (GIS) has expanded rapidly to become a leading developer of fully integrated printhead operating systems. GIS Print Manager Boards, Head Interface Boards, Drivers and User Interface Software with the GIS Variable Data RIP are designed to work reliably in rugged industrial settings and are currently being used in key industrial printing applications such as ceramics, labels, textiles, plastic cards, wide format graphics, 3D printing and materials deposition.
About the Queen's Awards for Enterprise
The Queen's Awards for Enterprise are awarded to businesses for outstanding achievement in International Trade, Innovation and Sustainable Development. The awards are made annually by HM The Queen and are only given for the highest levels of excellence demonstrated in each award category. An award is valid for five years.
_____________________________________________
To read more information, click
here.
Global Inkjet Systems provides industry leading technology to system builders integrating industrial inkjet printheads.
Global Inkjet Systems Ltd (GIS)