JSC "NIIK" selects AVEVA for integrated engineering and design
---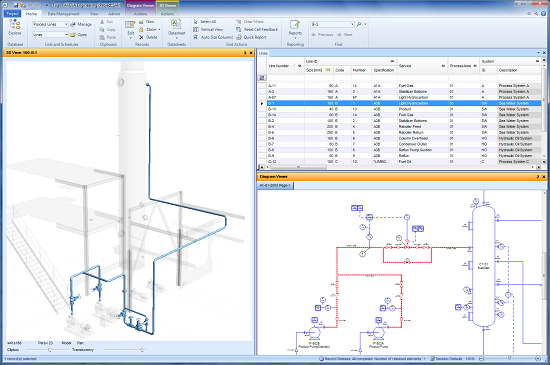 Leading Russian engineering company will benefit from improved project efficiency and reduced costs.
AVEVA announced today that JSC "NIIK" has implemented solutions within the AVEVA Plant software portfolio for the engineering and design of chemical facilities. By adopting an Integrated Engineering & Design (IE&D) approach, JSC "NIIK" can ensure consistency in the development of process flow diagrams and electrical equipment, through to the creation of the 3D model and the detailed design of the associated steel structure. This will greatly enhance the efficiency of major capital projects, reducing time and cost.
"Creating an integrated approach to our working environment was an important factor in selecting AVEVA and will result in a number of advantages for an engineering company like ourselves", said Oleg Kostin, General Director of JSC "NIIK". "Creating exact specifications and testing the correct position of system components will be far easier, saving time and cost across a project compared to our current solution. The IE&D approach allows us to create and maintain consistent designs throughout the project lifecycle. Our team of designers can work together, clearly identifying changes and controlling them to reduce disruptive and expensive rework. We look forward to a long and productive relationship with AVEVA."
Evgeny Fedotov, Senior Vice-President Russia, India & Middle East, AVEVA, added: "JSC "NIIK" is one of the leading design institutes in the chemical industry. This new contract will enable JSC "NIIK" to gradually build up its design capabilities and integrate its engineering across a suite of solutions in order to increase both the quality and quantity of projects that it can complete. JSC "NIIK" will use AVEVA software solutions across a range of projects including design and survey work during the construction, reconstruction, expansion, modernisation, and revamp of industrial facilities. JSC "NIIK" can trust that it has a set of products that will produce a high-quality 3D model and make work processes simple, clear and understandable at each stage. AVEVA Plant technology enables improved quality and reduced time scales while minimising risk. These very tangible business benefits are why so many companies are selecting AVEVA's solutions".
JSC "NIIK" has purchased AVEVA PDMS, AVEVA Diagrams, AVEVA Instrumentation, AVEVA Electrical, AVEVA Schematic 3D Integrator, AVEVA Cable Design, AVEVA Engineering, and AVEVA Bocad Steel.
The AVEVA Plant portfolio of products are part of AVEVA's Integrated Engineering & Design approach which improves project efficiency and reduces engineering and design costs by offering complementary products that draw on common processes, disciplines and deliverables, through a single managed information model. For more information visit www.aveva.com/plant.
JSC "NIIK" is a Russian engineering company specialising in the research and design of chemical facilities. Projects include laboratory and pilot studies, the production of design and construction documents, automated process control systems with the use of advanced microprocessors in the industrial production of urea, fertiliser and related compounds, isocyanates and their transformation products.
*******
Media contact:
Elena Kolesnikova 
Marketing Specialist, Russia and CIS
AVEVA
Tel: +7 495 2256023 
elena.kolesnikova@aveva.com
Follow AVEVA on twitter @avevagroup
Watch AVEVA on YouTube www.youtube.com/avevagroup
For customer stories read AVEVA World Magazine at www.aveva.com/Media-Centre/AWM
About AVEVA
AVEVA is a leader in engineering design and information management solutions for the plant, power and marine industries.  For more than 45 years, it has delivered business critical software solutions to owner operators, engineering contractors and shipbuilders around the world.  For further information please visit www.aveva.com/ednotes.
Copyright 2013 AVEVA Solutions Limited. All rights reserved. AVEVA Solutions Limited is owned by AVEVA Group plc. AVEVA, the AVEVA logos and AVEVA product names are trademarks or registered trademarks of AVEVA Group plc or its subsidiaries in the United Kingdom and other countries. Other brands and products names are the trademarks of their respective companies.
___________________________________________
AVEVA is a global leader in engineering and industrial software driving digital transformation across the entire asset and operational life cycle of capital-intensive industries.