Share adventures in real time with new ViewRanger 'Tripstories'
---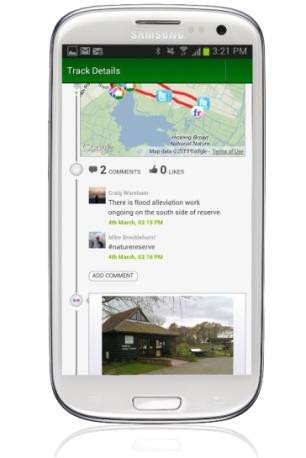 V4.1 for Android offers fast in-app sharing with twitter and other social media.
ViewRanger, the award-winning free GPS navigation and trail creation app, has launched V4.1 this week with unique 'TripStories' feature. The update makes it even easier for users to share their outdoor adventures where and when they happen on social media sites by improving integration with apps such as twitter and Flickr.
ViewRanger's 'TripStories' feature allows users to record GPS tracks of their outdoor experiences, whilst create a dialogue with geotagged photographs and tweets. The TripStory can then be shared with friends or fellow enthusiasts, who can also comment on the track.
One of the new features in V4.1 is that users are now able to share their TripStory from within the app, on social media sites such as twitter and Facebook – bringing a new immediacy to the action. (The update is available now on Android and awaiting approval from Apple).
Some users had been piloting an early version of TripStories on the ViewRanger's community site, my.viewranger.com.  Their input has been used to create a redesigned track page, which focuses specifically on users sharing their adventure with friends and family. By linking their Flickr account to ViewRanger, users can attach photos to their route, creating an online, personalised album of their trip.
As well as a larger map to display the GPS track, the new page design highlights photos associated with a user's TripStory. A 'Lightbox' allows photos to be scrolled through at a large size, to get a real sense of the sequence of events unfolding on the trip.
Craig Wareham is co-founder of Augmentra, the company behind ViewRanger. He says:
"This update acknowledges the enthusiasm of our users not only to track and record their routes for their own information, but also to share them with others who have similar interests.
"For example twitter is used to provide an instant reaction, to a user's experiences as and when they happen. We now have twitter card support, allowing our users to show off their TripStories within the twitter site or app. When a user shares their TripStory on twitter, and the tweet is viewed, a preview map of the track, and up to 3 pictures tagged to the track are shown.
"In addition to updates on our tracking features, we have also made improvements elsewhere. The new in-app Activity Feed is particularly useful as it allows users to follow the adventures of their favourite ViewRanger users.
"The new features make creating, sharing, discovering and viewing TripStories a truly powerful feature of the ViewRanger app."
As well as its sophisticated tracking technology, the ViewRanger app also allows you to download to your phone a choice of free maps, or paid-for Ordnance Survey mapping. Once the map is on the phone it can be viewed without a mobile signal, however, your location is visible at all times using GPS.
New features of ViewRanger Version 4.1
Share your track or buddy beacon from within the app on social media sites such as Facebook and twitter, or via email.
If a user clicks on a ViewRanger link, it will open in the ViewRanger app.
When users share a link to their TripStory and the tweet is viewed, a preview map of the track and up to 3 pictures tagged to the track are displayed. 
In-app activity feed shows what favourite ViewRanger users are up to.
.gpx files can now be shared via email.
The Track Record panel has been redesigned so tracks can now be edited on one screen.
Option to keep the screen alight while the device is plugged into an external power source.
New features of www.my.ViewRanger.com
TripStories are now displayed with a much larger map.
Pictures associated with TripStories are more prominent on the website and can be scrolled through and liked via a Lightbox.
New statistics show data on ascending and descending sections of a trip.
Media contact for Augmentra/ViewRanger:
Rachel Holdsworth / Victoria Ellis,
Holdsworth Associates PR consultancy,
Tel: 01954 202789,
email: victoria@holdsworth-associates.co.uk,
www.holdsworth-associates.co.uk
Outdooractive is the world's leading digital platform for outdoor adventure, a virtual home for all outdoor enthusiasts. With our solutions we support people in living an active lifestyle. We encourage them to explore the great outdoors and inspire moments of connection in nature. In late 2019, Outdooractive acquired Cambridge-based ViewRanger, who had built a profitable business delivering an outdoor navigation app to a worldwide community of active consumers.