BBC Children in Need Rickshaw Challenge uses Cambridge-based ViewRanger app
---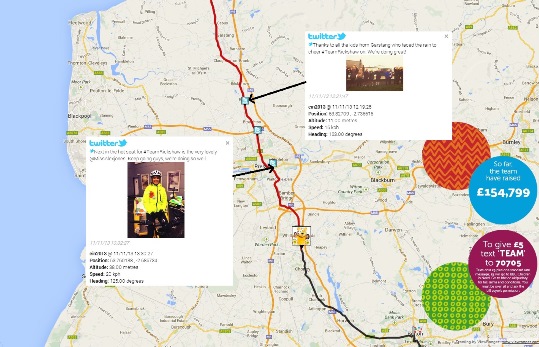 ViewRanger's BuddyBeacon location sharing service will allow supporters to track Team Rickshaw's progress on a dynamically updated map.
The Rickshaw Challenge 2013 for BBC Children in Need is the biggest yet and will be using the ViewRanger navigation app to keep it on course and its supporters updated with progress.  
ViewRanger is used by outdoor enthusiasts worldwide.  It provides mapping, navigation and a sophisticated sports computer, all fully integrated within an easy to use app.
Team Rickshaw has been provided with smartphones preloaded with the ViewRanger app so they will be able to see where they are at all times, how fast they are going and how faraway the next rest break is. It is a great way to keep up the morale; especially as this year they will be cycling for 22 hours a day so much of the journey will be in darkness.
ViewRanger is also supplying a dynamically updated map for the charity website which uses location information taken from the app's BuddyBeacon facility.  The map will allow supporters at home to follow Team Rickshaw's progress in real time. Local supporters can see when the Rickshaw will be arriving at the next location, so if possible they can meet up and cheer them on in person.
Team Rickshaw is made up of five young people, each of whom have been supported by projects funded by BBC Children in Need. The One Show's Alex Jones and  Rickshaw veteran Matt Baker will also be supporting the riders on their eight-day relay journey which takes in all four nations of the United Kingdom.  
The young riders are undertaking the challenge to raise as much money as possible to help other young people across the country.
Every day viewers will be able to follow Team Rickshaw's progress online at the Children in Need website http://bbc.co.uk/pudsey and follow the team on Twitter via #TeamRickshaw, as they travel from Giant's Causeway to London.
To Donate £5, text "TEAM' to 70705. Texts cost £5 plus one standard rate message, £5 will go to BBC Children in Need, registered charity number 802052 (England and Wales) SC039557 (Scotland). Go to bbc.co.uk/pudsey for full terms and conditions. You must be over 16 and ask the bill payer's permission.

ViewRanger is a free app that comes with open source mapping that you can add to by downloading recommended walks and cycle routes.  It is also possible to purchased mapping from international mapping agencies such as the Ordnance Survey and Swisstopo when more detailed mapping is required. This can be downloaded on to the smartphone in advance ready for use in the field without a mobile signal.  ViewRanger's worldwide share their favourite routes and TripStories on www.myviewranger, the social community that is supported by the app. 
________________________________________
To read more information, click
here.
Outdooractive is the world's leading digital platform for outdoor adventure, a virtual home for all outdoor enthusiasts. With our solutions we support people in living an active lifestyle. We encourage them to explore the great outdoors and inspire moments of connection in nature. In late 2019, Outdooractive acquired Cambridge-based ViewRanger, who had built a profitable business delivering an outdoor navigation app to a worldwide community of active consumers.