Stargate investment for wearable tech boom
---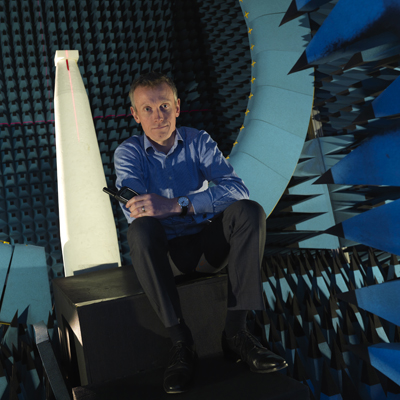 Cambridge Consultants' new anechoic test facility supports rapid growth in wearable technology devices and services.
Cambridge Consultants has acquired a 'Stargate 64' anechoic radio test facility to help maximise performance of the wireless products it develops – particularly in the rapidly growing connected wearable technology sector.

The Satimo Stargate 64 – named after its ring of 64 test antennas that looks like the portal from the sci-fi franchise of the same name – is within a fully anechoic 6m cube test chamber. It can perform full three-dimensional measurement and visualisation of the performance of both the radio and antennas of devices over the air – enabling body-worn products and their antennas to be accurately measured in situ.

Driven by the growth of sports, fitness and health applications, 90 million connected wearable computing devices will be shipped this year, according to ABI Research.

"Wearable device antennas of the future might be within the strap of a watch or the lace of a shoe and require accurate testing to most effectively connect with smartphones to deliver the best user experience," said Tim Fowler, head of wireless at Cambridge Consultants.

"We're embarking on many new wirelessly connected device developments in the field of consumer, medical, industrial, telecoms and mobile. This new test facility allows us to quickly analyse and improve the performance of devices. Improving the radiated antenna performance will also lead to improved battery life for devices."

There are only a handful of such chambers in the UK and most are not generally available to hire. As well as using the facility to enhance the performance of wireless products it develops for its clients, Cambridge Consultants will also be providing services to allow third parties to measure performance of their own products.

Cambridge Consultants has one of the world's largest independent wireless development teams, with more than 100 experts covering every design expertise from short-range wireless connectivity to global satellite communication. The company is helping clients around the world move beyond simply designing devices to building and managing end-to-end services.
________________________________________
To read more information, click
here.
For over 50 years, Cambridge Consultants has led the way in innovative product development. We are the development partner of choice to many of the world's leading blue chips, as well as the virtual development team for ambitious start-up companies.