CRedit360 wins Queen's Award after trebling sales in three years
---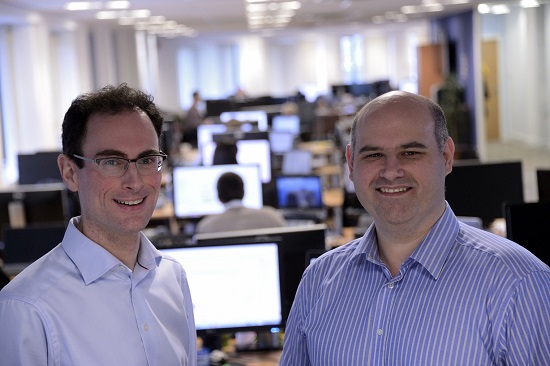 Cambridge-based EHS and sustainability management software developer CRedit360 is recognised for outstanding overseas growth.
CRedit360 (www.credit360.com), today announced that it has won the Queen's Award, one of the UK's most prestigious business awards. The fast-expanding company, which provides software for multinational businesses to manage their Environmental, Health and Safety (EHS), and sustainability performance, has been recognised for its outstanding overseas growth. Sales have more than tripled over the last three years and staff numbers have grown from 33 to 150 employees. 65% of revenues are now outside the UK.
Founded by university friends Richard Kirby and Anthony Jenking in 2002, CRedit360 now works with over 200 customers, including global companies like Centrica, Nestlé, Philips, and McDonald's, with its software helping them to accurately capture, manage, and report the sustainability and EHS information needed to ensure compliance and drive performance across all business areas.
Headquartered in Cambridge, with offices in the United States and New Zealand. CRedit360's 150-strong team comprises software developers, sustainability consultants, business development experts as well as service and account managers. The privately-funded company is currently expanding in the United States and has doubled the size of its Chicago office over the last twelve months. 
"Winning the Queen's Award is another milestone in the history of our company and a fantastic tribute to our talented team," says Richard Kirby, CEO Product, CRedit360. "Uniquely, we have always funded our own product development, which has enabled us to be flexible when it comes to meeting the specific needs of our customers and provided us with control over our strategy and given us the ability to invest for the long-term. As a small company the fact we have achieved such global success is recognition to both the quality of our product, but even more of our people who make CRedit360 such a special place to work." 
Anthony Jenking, CEO Delivery, CRedit360, adds "We combine a lot of expertise in our team, but even more importantly we take the time to listen to our clients and understand their needs. CRedit360 is in this strong position due to our industry leading customer support which guarantees that our clients get the most out of their system, extending it to meet their changing business needs."
CRedit360's performance management software has been rated as market-leading by independent analyst firm Verdantix, is Global Reporting Initiative (GRI) approved in five languages and has achieved gold-level Carbon Disclosure Project (CDP) accreditation for four years in a row.
Other recent accolades include inclusion in the Sunday Times' Hiscox Tech Track 100 league table of the UK's fastest growing tech companies and Top Product of the Year 2015 in the Environmental Leader Product & Project Awards.
Image: Richard Kirby and Anthony Jenking
____________________________________
To read more information, click
here.
UL's Environment & Sustainability division works to advance global sustainability, environmental health, and safety.
We enable this through:
• Software platforms that help businesses track and measure environmental, supply chain, health, and safety management and sustainability data to meet regulatory and disclosure needs.
• Help businesses demonstrate the health and sustainability of their products through sustainable product certifications such as GREENGUARD and ECOLOGO Certification, environmental claim validations and transparency programs.
• We also support the transition of businesses from linear economy mindsets and practices to a more sustainable, circular approach that can uncover significant hidden value.
UL Environment & Sustainability