AVEVA partners with Colombia's Universidad Nacional
---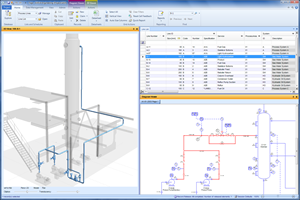 Engineers of the future will use AVEVA's Integrated Engineering & Design software.
AVEVA today announced that products from its Integrated Engineering & Design solution will be used by engineering students at Universidad Nacional de Colombia (UNAL) as part of its degree program. The two year partnership between AVEVA and UNAL includes training of the university staff on the AVEVA software in the areas of 3D process plant design, instrumentation, mechanical and electrical engineering. The principal products that will be used in the program are AVEVA Everything3D™, AVEVA Engineering™, AVEVA Diagrams™, AVEVA Electrical™ and AVEVA Instrumentation™. 
'Programs like ours are helping to address a serious shortage of experienced engineering talent,' said Alvaro Orjuela, Associate Professor at Universidad Nacional de Colombia. 'The AVEVA software is used by some of the 'big players' in the Oil & Gas, Power and Marine sectors, so our students will benefit from the hands-on experience they will gain in our classroom, and will make them very attractive to different companies after graduation. By working together with industry leaders like AVEVA, we are making a considerable contribution to the future success of engineering in Colombia'.
'Colombian employers tell us how they struggle to find skilled engineers, often having to fill the posts with employees from overseas,' said Carmen Montenegro. Regional Sales Manager, AVEVA. 'AVEVA works closely with academic institutions to ensure that students have access to the most up-to-date engineering & design software on the market. Not only do students learn how to operate our software, but they gain a better understanding about what to expect on a major capital engineering project. It's important that vital next generation assets such as refineries, petrochemical facilities, power plants and offshore
The Universidad Nacional Colombia is based in Bogota, Colombia, and it has over 5000 undergraduate students in different engineering disciplines. The programs that will include AVEVA software as part of the courses activities are initially chemical, mechanical, civil, and electrical engineering. Further introduction in the mechatronic and electronic engineering courses is planned at a later date.  platforms are not delayed due to an engineering skills shortage.' 
The AVEVA Academic Initiative benefits educational institutions, their students, employers, and the global engineering community. AVEVA's educational partners range from local vocational training centers to the world's most prestigious postgraduate universities. Common to all is a dedication to developing engineering skills that can be applied directly in the process plant, power and marine industries.
To learn more visit www.aveva.com/academic
____________________________________
To read more information, click
here.
AVEVA is a global leader in engineering and industrial software driving digital transformation across the entire asset and operational life cycle of capital-intensive industries.