TTP Labtech showcases the new mosquito® HV at SLAS 2012
---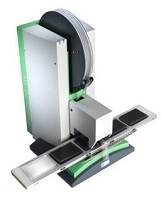 TTP Labtech's new mosquito® HV, launched this week at SLAS 2012, bridges the gap between nanolitre and microlitre liquid handling.
The new mosquito® HV has been developed to allow scientists to accurately handle low volume serial dilutions and assay plate preparations, across the 500nL to 5µL range. In addition, the mosquito HV can rapidly perform serial dilutions in the 2-8µL final volume range, and can stamp from a mother plate directly to assay plates as part of the same protocol, saving valuable laboratory time.
mosquito HV is one of three brand new products to be launched by the innovative laboratory instrumentation manufacturer, TTP Labtech on booth 914, at the inaugural SLAS conference in San Diego, 4-8th Feb. 2012.
mosquito HV retains all the unique features of TTP Labtech's mosquito range of nanolitre liquid handlers including its proprietary positive displacement pipetting technology for rapid, accurate dispensing of sample volumes, regardless of viscosity. The mosquito HV's larger disposable micropipettes ensure zero cross contamination and reach right to the bottom of wells, minimising dead volume to under 50nL per well. mosquito HV also offers outstanding accuracy, to within 2 % of target volume. It is available in an HTS format for screening and an X1 format for hit picking applications.
Building on the success of the mosquito liquid handling portfolio, mosquito HV offers further flexibility in the low volume range for highly accurate sample dispensing and handling for a wide range of chemical and biological-based applications beyond serial dilutions and plate reformatting. These include compound and small molecule screening, cell or bead based assays, enzyme kinetics assays, ELISAs, molecular biology applications such as PCR, RNAi screening and SNP genotyping.
mosquito's extremely accurate and precise pipetting and mixing capabilities ensure good quality, repeatable data, with c.v.'s of below 2.5 % throughout its volume range, whilst minimising run times and reagent wastage.
Joby Jenkins, product manager for the mosquito product range commented, "It is exciting to be able to launch mosquito HV which has come about as a result of a number of requests for a higher volume version of our renowned mosquito HTS".
For further information on the mosquito HV,  visit www.ttplabtech.com/new.
 
To read more information, click
here.
TTP is an independent technology company where scientists and engineers collaborate to invent, design and develop new products and technologies. Working across a wide spectrum of industries including health, telecoms, industrials and consumer, TTP creates breakthrough solutions that bring strong commercial value to clients and the benefits of technology to all.