Four Cambridge Women scoop business awards
---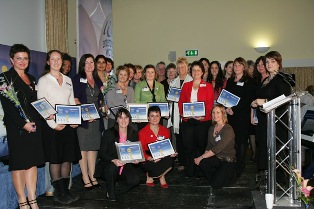 Four Cambridgeshire women celebrated winning Enterprising Women awards at Abington Hall in Cambridge.
The awards recognise business excellence across a range of categories from Young Entrepreneurs through to Inspirational Business Mum and High Flyers. They were sponsored by Business Link East and Venture Navigator, and supported by EEDA.
Over 150 business women gathered for the conference and awards, hearing from serial entrepreneur Karen Darby in the morning and home business champion, Emma Jones, in the afternoon.
The suspense built during the day and climaxed in the afternoon when the winners were announced, receiving prizes from Bev Hurley, founder of Enterprising Women, and Marco Cereste, EEDA board member.
Joanne Fuller-Gray, winner of the Green Award said "The speakers were second to none and a real inspiration to us. We came away feeling exhilarated and supported, ready to face whatever opportunities are thrown our way."
Cambridgeshire winners were: Madhuri Warren of VSS Diagnostic Services Ltd, winner of the Innovator/Science Engineering and Technology award; Sue Isaacson of the HR Dept., winner of the Customer Impact award; Jo Fuller-Gray of J.F.G.Recycling, winner of the Green award; and Anita Moss of Edunation Ltd, winner of the Young Entrepreneur award.
The awards attracted over 130 entries with just under 1000 votes coming in from the Enterprising Women members who were able to cast their votes online leading up to the conference.
Read more about the winners and see them accepting their awards at http://www.enterprising-women.org/winners
Enterprising Women:
http://www.enterprising-women.org/ is a dynamic community of over 5000 women starting or growing businesses across England. Enterprising Women actively supports women through start up and growth training, peer business support, networking events and an online community allowing women to promote their business, share ideas through a forum and receive regularly enews bulletins.
Contact Kate Naylor on 01223 421475 for more information, info@enterprising-women.org
Conference site: http://www.enterprising-women.org/conference  
Judges' details:
Bev Hurley CEO YTKO, http://www.ytko.com/
Jenny Chapman Business Editor Cambridge Evening News, http://www.cambridge-news.co.uk/
Paul Henry of Business Link East, http://www.businesslink.gov.uk
John Riley CEO Menta, http://www.menta.org.uk/

A transformational programme with a mission to create over 5000 new jobs, 1400 new apprenticeships and generate significant inward investment in Cambridgeshire & Peterborough over the next three years.