GIS launches new KM1024 head personality board
---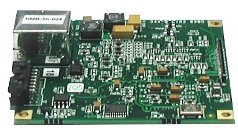 GIS launches a head personality board for Konica Minolta's KM1024 inkjet head, providing full 8 level grey scale capability.
Global Inkjet Systems (GIS) has just launched a new Head Personality Board (HPB) for the Konica Minolta KM1024 head, providing full 8 level grey capability.

"We believe this is the first commercially available system which can deliver the full 8 grey level capability on the KM1024, and a welcome addition to our ever increasing HPB portfolio" said Nick Geddes, Managing Director of GIS.

The HPB-KM-1024 provides communication between the GIS Printer Manager Board (model PMB-C2 or PMB-C8) and the following Konica Minolta KM1024 series printheads:

KM1024 S
KM1024 M
KM1024 L ·
Access to all the standard KM1024 printhead settings (voltage trim, temperature, binary/greyscale mode, waveform)
Additional control over printhead and heater power (where printhead heater is present)
Convenient single power connection
Ribbon cable interface to standard KM1024 ICB
3 bit (8 level) grey level capability with KM1024
To read more information, click
here.
Global Inkjet Systems provides industry leading technology to system builders integrating industrial inkjet printheads.
Global Inkjet Systems Ltd (GIS)