Perfect gift for Dads that explore 'father' afield
---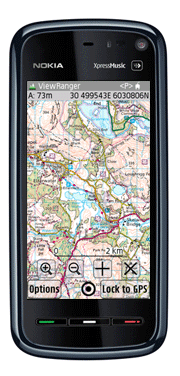 Award-winning 'off road sat nav' helps Dad lead in the great outdoors.
If your Dad loves the outdoors and gadgets (and will never ask for directions) then ViewRanger – a neat 'off-road sat nav' application for mobile phone, complete with sports computer – is a gift that no father should be without.
With ViewRanger on his phone, Dad can access digital Ordnance Survey maps on-the-go, and see exactly where he is on the dynamic display. Unique features include 3D panoramic graphics to identify landscape features at a glance, 'Buddy Beacon' live tracking for keeping track of friends or children on the hills, and a sports computer allowing him to track his route and analyse his performance.
ViewRanger uses sophisticated mapping and is developed by outdoor enthusiasts to be intuitive and full of useful functionality. Craig Wareham, co-founder of Augmentra, developers of ViewRanger, explains:
"ViewRanger is a sophisticated gadget that is easy-to-use and lets you plan walks and tours. It is possible to get more mapping at any time by ordering the sections you want over-the-air. We are pushing the boundaries of personal navigation technology."
The ViewRanger integral sports computer is brilliant for runners, cyclists and for any outdoor enthusiast who wants to get more out of their exercise regime. It gives maximum and average speed, track length and height gain/loss. Dad can also review and examine his performance with on-screen graphs both during and after any activity.
ViewRanger also enables users to create an online TravelLog, so that activities and outdoor experiences can be shared. Advanced camera integration technology means that friends and family can share geotagged photos plus descriptions of places visited.
Compared to standard outdoor GPS devices ViewRanger on a mobile phone offers much faster map redraw and a much bigger map capacity. It can store an unlimited number of routes and users can discover great places to go byaccessing a library of over 4500 guided routes across the UK, available by instant direct-to-handset delivery. Mobile phones are lighter and less bulky than dedicated GPS units, and users can run ViewRanger alongside car satnav software on a single phone to go anywhere and never be lost.
"ViewRanger is the perfect gift solution for this Father's Day. Its practicality means it will appeal to everyone. ViewRanger will provide a new and exciting dimension to outdoor pursuits," comments Craig.
For those who want to personalise their gift further, additional topographic maps can be added for countries including France, Germany, Italy, Ireland, Norway and Switzerland. For full details or to buy, visit www.viewranger.com. Prices start at £20.
About ViewRanger
ViewRanger software requires a Symbian S60 compatible phone, such as a smartphone from Nokia or Samsung. ViewRanger maps and software are available pre-installed on a memory card, allowing ViewRanger to be used straight away without requiring a connection to a PC; via web download; or through mobile channels including Nokia Software Market and Orange App Store.
ViewRanger mapping is available for Belgium, Finland, France, Great Britain, Ireland, Netherlands, Norway, Slovenia, and Switzerland. More countries are set to follow. For more information or to purchase ViewRanger, visit http://www.viewranger.com
About Augmentra Ltd
Augmentra is a specialist in location-based mapping, navigation and information solutions for smart mobile devices. It delivers innovative solutions that exploit the potential offered by the convergence of mobile phone, imaging and GPS technologies. It is focussed on the outdoor activity, leisure and travel markets.
Augmentra is a licensed partner of AA Publishing and Ordnance Survey, and is partnered with Forum Nokia, Symbian Signed and Orange.
*******
For further information please contact:
Helen Goldrein/Alison Jack, PR consultants
Holdsworth Associates
Tel: 01954 202789 Email: helen@holdsworth-associates.co.uk.
To read more information, click
here.
Outdooractive is the world's leading digital platform for outdoor adventure, a virtual home for all outdoor enthusiasts. With our solutions we support people in living an active lifestyle. We encourage them to explore the great outdoors and inspire moments of connection in nature. In late 2019, Outdooractive acquired Cambridge-based ViewRanger, who had built a profitable business delivering an outdoor navigation app to a worldwide community of active consumers.