Life Sciences logistics provider expands into China
---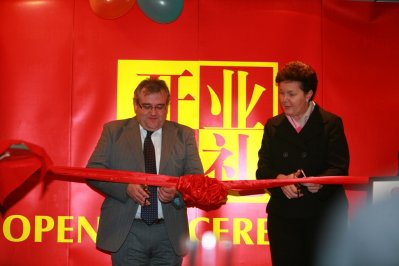 The Life Sciences logistics solutions provider, Biocair, has recently expanded its operations into China.
The opening ceremony, held last month,  was attended by Carma Eliott, the British Consul General in Shanghai, who cut the ribbon together with Andy King, the Managing Director of Biocair.  The British Consul general congratulated Biocair on the issue of their new Chinese Business Licence.  She re-affirmed the British Government's support of the Life Sciences sector and acknowledged the vital logistics role for research materials and clinical trial samples that Biocair can now provide companies in China.
Biocair, established since 1987, is a proven international specialist in transporting temperature sensitive biological materials and drugs for clinical trials in and out of the main pharmaceutical and biopharmaceutical clusters in UK, Europe, USA, South America, Russia, Japan, and India.  The new logistics operation in Shanghai has extended their Asia service offering.  Andy King commented; "This expansion into China is a key step in our international business development plan in response to growing customer demand in the region". He went on to say: "We really appreciated all the encouragement and support we have had from customers, which helped us make this investment decision to enter the China market."
Setting up a new operation in China is complicated and needs expert help to ensure it's done correctly, avoiding costly delays.  Biocair used the expertise of the China British Business Council (CBBC), as well as using the consultancy company Asiasetup, who were able to gain 'Wholly Foreign Owned Enterprise' approval at Municipal level in just two weeks, which is a more difficult level for a foreign company to obtain in Shanghai; Biocair's business license was granted two weeks later. 
Chris Cooke, Biocair's CFO congratulated the Asiasetup team on achieving one of the fastest Chinese company registration's on record.  It was achieved due to the detailed preparation and consultation with Government officials prior to submission, which Asiasetup is able to do very effectively, having built excellent relationships with the Government departments involved. 
For further information about Biocair, the range services offered and details of their worldwide regional offices visit their website www.biocair.com.  Alternatively call their UK head office on (+44) (0)1223 245223 or e mail: sales@biocair.com.   For further details about Asiasetup visit www.asaisetup.com.

Photo caption: Carma Eliott, the British Consul General in Shanghai and Andy King, The MD of Biocair, cutting the ribbon at the opening of the new Biocair Life Sciences logistics operation in Shanghai. 
About Biocair
Founded in 1987, Biocair was established as a pharmaceutical courier to serve the specialised needs of the scientific community. Today Biocair is a global organisation, with main offices in Cambridge, UK, Boston, USA and Osaka, Japan. They have extensive knowledge and experience in providing courier and specialist logistics services to the Life Sciences market for the transportation of dangerous, valuable or temperature sensitive biotech materials, pharmaceutical drugs for clinical trials and medical research materials.  Their logistics operations and extensive network of transport providers enables them to ship Life Science materials internationally all over the world.  For further information visit www.biocair.com.

About Asiasetup Ltd
Asiasetup, based in Ipswich, Hong Kong and Shanghai are a specialist consultancy which helps companies do business in Asia, especially China. They provide consulting, project implementation and management services on a wide range of market entry, company set up and restructuring tasks. 
For further information visit www.asiasetup.com.
Biocair is the global specialist courier with over 30 years of dedicated experience in the pharmaceutical, biotechnology and life science sectors