Amino wins TWI Award for Technology Engineering in International Markets
---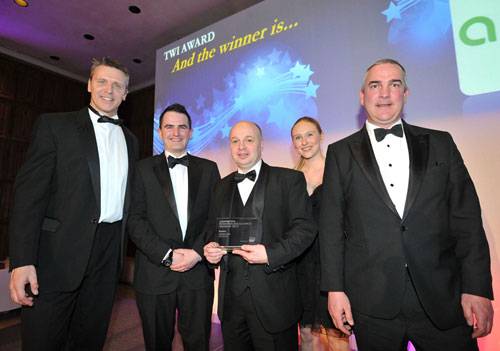 Amino Technologies celebrates international success at the recent 'Cambridge News' Business Excellence Awards.
Swavesey-based Amino Technologies, which specialises in technology for internet TV, picked up the first TWI Award for Technology Engineering in International Markets at the Cambridge News Business Excellence Awards presentation at King's College in Cambridge.
The TWI Award is to recognise companies that have in the last 12 months successfully exploited or exported a technology, product or service into international or emerging markets.
Amino has successfully grown its business in the knowledge that these days the public want everything on the TV and it demonstrated this in abundance to the judging panel with its recent huge growth in export, notably to Italy and Russia.
Listed on AIM, Amino has seen turnover lift 18% over the past year to £51.8m, and recently announced its maiden dividend to shareholders.
Amino CEO Donald McGarva said: 'We're delighted to win this prestigious award. It's a real testimony to the efforts of everyone at Amino in delivering great quality products and support to our customers around the world. We continue to innovate and target new markets and we look forward to competing again in next year's award.'
Photo caption:  Donald McGarva, centre, of Amino collects the TWI Award with colleagues Gary Reilly-Lloyd and Rebecca Dellert, from Christoph Wiesner, Chief Executive of TWI. Photo courtesy Cambridge News.
About TWI
TWI is one of the world's foremost independent research and technology organisations, with expertise in solving problems in all aspects of manufacturing, fabrication and whole-life integrity management technologies.
Established at Abington, Cambridge, UK in 1946 and with several facilities across the globe, the company has a first class reputation for service though its teams of internationally respected consultants, scientists, engineers and support staff, whose knowledge and expertise are available to its Members as and when they require.
The company employs over 700 staff, serving 700 Member companies across 4500 sites in 80 countries. TWI also houses a professional institution, The Welding Institute, with a separate membership of 6000 individuals.
TWI, Granta Park, Abington, Cambridge CB21 6AL. Tel: 01223 899000.  Fax: 01223 892588.  E-mail: twi@twi.co.uk. Web: www.twi.co.uk    
11/12
________________________________________________________
To read more information, click
here.
TWI is a world leading research and technology organisation with a focus on materials, engineering and manufacturing.