PragmatIC wins prestigious National Microelectronics Institute award
---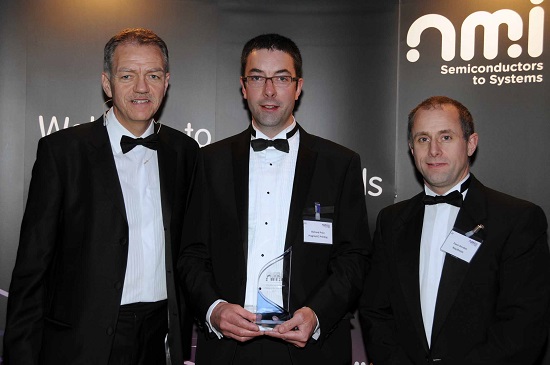 PragmatIC has been declared the UK's leading emerging technology company of 2015 at last week's NMI Awards.
The awards celebrate the year's key electronics innovations, people and companies from across the UK and Ireland. It has been run as an annual event since 2001.
The "Emerging Technology Company of the Year" Award honours a growing company showing excellent progress – demonstrating impressive growth in areas such as revenue, headcount, innovation, investment and market traction as success indicators.
In presenting the award, NMI CEO Derek Boyd said: "Our winner has considered both the technology and commercial needs to truly enable the Internet of Things with ultra-low-cost and flexible solutions. They have built strong partnerships and recognised the need for an optimised production process as the next step in their growth strategy. Their strong customer pipeline and vision for producing billions of units make them not just an emerging company, but a blossoming endeavour."
Image: PragmatIC's Chief Operating Officer, Richard Price, receiving the NMI Award
About PragmatIC Printing Ltd
PragmatIC is a world leader in ultra low cost flexible electronics, enabling the potential for trillions of "smart objects" that can sense and communicate with their environment.
PragmatIC's unique technology platform enables integrated circuits thinner than a human hair that can be easily embedded in any surface, introducing interactivity into a wide range of everyday items.
At a fraction of the price of conventional silicon chips, PragmatIC's products enable a vast range of new applications: from intelligent packaging of fast-moving consumer goods, to wireless traceability of documents for security and identification.
PragmatIC is headquartered in Cambridge, England and has a production facility based at the National Centre for Printable Electronics in Sedgefield.
PragmatIC's growing customer base includes large multi-national customers across a number of sectors, including consumer goods, packaging, security printing and mainstream electronics.
For more information: pr@pragmaticprinting.com www.pragmaticprinting.com
About NMI
NMI is the UK trade association representing the electronic systems, microelectronics and semiconductor communities. Its objective is to catalyse and accelerate the continual development of a sustainable and world-leading industry in the UK.
NMI is a not-for-profit organisation funded by its membership, which includes electronic systems design and manufacturing companies, integrated device manufacturers, fabless semiconductor manufacturers, semiconductor foundries, semiconductor suppliers, electronics design services, intellectual property providers, research and academic institutions.
NMI is a trading name of the National Microelectronics Institute, a not-for-profit organisation registered in Scotland, No. 17005.
For more information: www.nmi.org.uk
________________________________________________________
To read more information, click
here.
PragmatIC is a world leader in ultra-low-cost flexible electronics. Our flexible integrated circuits (FlexICs) are thinner than a human hair and can be invisibly embedded in objects, enabling innovators to create novel solutions to everyday problems that are not practical with conventional electronics.