PragmatIC validates unique model for scaling up production of flexible integrated circuits
---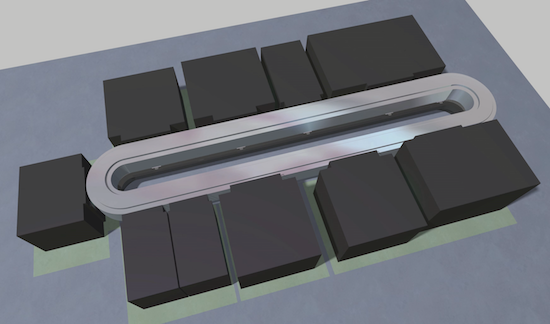 FlexLogIC™ fab-in-a-box enables high volume flexIC manufacturing with low up-front capex.
PragmatIC, a world leader in flexible electronics, has completed a detailed design study validating its FlexLogIC concept for production scale-up of flexible integrated circuits (flexICs), and is now working towards commissioning of the first system.
The FlexLogIC approach transfers PragmatIC's proven end-to-end flexIC production process into a self-contained, fully automated, modular "fab-in-a-box" for high throughput manufacturing. The FlexLogIC system offers capacity for billions of flexICs at a capital cost between 100 and 1000 times lower than a silicon fab.
For the FlexLogIC design study, PragmatIC selected VDL Enabling Technologies Group (VDL ETG) based on their enviable track record in on-time, first-time-right delivery of similar complexity manufacturing equipment, as well as their strong expertise in hardware and software automation.
PragmatIC and the VDL ETG Projects business unit are now progressing the next phase of development, with commissioning of the first FlexLogIC system expected in 2017.
Arie van Kraaij, Managing Director of VDL ETG Projects, says: "We have been impressed by PragmatIC's vision for commercial scale-up of their flexIC technology, and are excited to be involved in its realisation."
PragmatIC's Chief Executive Officer, Scott White, adds: "The FlexLogIC system makes the business case for flexICs even more compelling. It enables rapid and cost-effective scaling of capacity for both PragmatIC and our partners, to meet the expanding requirements of our customers."
Mr White will present the FlexLogIC concept, along with recent commercial progress, at the upcoming LOPEC conference in Munich on 5th April 2016.
Image: Concept drawing of FlexLogIC system
About PragmatIC Printing Ltd 
PragmatIC is a world leader in ultra low cost flexible electronics, enabling the potential for trillions of "smart objects" that can sense and communicate with their environment.
PragmatIC's unique technology platform enables integrated circuits thinner than a human hair that can be easily embedded in any surface, introducing interactivity into a wide range of everyday items.
At a fraction of the price of conventional silicon chips, PragmatIC's products enable a vast range of new applications: from intelligent packaging of fast-moving consumer goods, to wireless traceability of documents for security and identification.
PragmatIC is headquartered in Cambridge, England and has a production facility based at the National Centre for Printable Electronics in Sedgefield.
PragmatIC's growing customer base includes large multi-national customers across a number of sectors, including consumer goods, packaging, security printing and mainstream electronics.
The FlexLogIC design study was supported by the European Union's Horizon 2020 SME Instrument (grant agreement number 696266).
For more information: pr@pragmaticprinting.com or www.pragmaticprinting.com
About VDL Enabling Technologies Group
VDL Enabling Technologies Group (VDL ETG) is a contract manufacturing partner operating worldwide in many high-tech markets like semiconductors, thin-film photovoltaics, analytical instruments, medical systems, aerospace, defence. VDL ETG manufacturers parts, modules and fully-integrated systems in 5 volume factories located in The Netherlands, Switzerland, Suzhou (China), and Singapore, and has strong design and engineering capabilities to support its customers throughout the entire lifetime of their products. Two dedicated business lines, VDL ETG Research and VDL ETG Projects, have a recognized track record in the series manufacturing of 'high-mix low-volume' products and in the design and realization of prototypes and first-of-a-kind complex tools and production lines.
VDL ETG is part of VDL Groep, an international, industrial company active in the development, production and sales of semi-finished and finished products, buses and coaches, and assembly of cars. Headquartered in Eindhoven, The Netherlands, and exceeding a turnover of €2.6 billion, VDL Groep supervises its more than 85 subsidiaries by entitling them to exercise a high level of autonomy and responsibility for results.
For more information: info@vdletg.com or www.vdletg.com
_________________________________________________
To read more information, click
here.
PragmatIC is a world leader in ultra-low-cost flexible electronics. Our flexible integrated circuits (FlexICs) are thinner than a human hair and can be invisibly embedded in objects, enabling innovators to create novel solutions to everyday problems that are not practical with conventional electronics.