Barclays opens Cambridge Incubator to support high growth businesses and entrepreneurs
---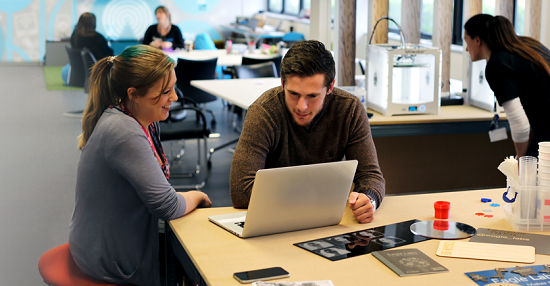 Barclays officially launched its first Eagle Lab Incubator in Chesterton Road, Cambridge, this week, with over 150 guests in attendance.
Key speakers at the event today (Monday 9th May) were Simon McCarthy, Head of Business and Corporate Banking, Cambridgeshire and Charles Cotton, Founder and Chairman, Cambridge Phenomenon International Limited.

The location of Barclays first Eagle Labs Incubator was chosen on Cambridge's history of developing an outstanding record of business success, based on a relationship between a world-leading University and one of Europe's top technology clusters. The Incubator will help to support that success, giving future entrepreneurs the space and opportunities to become part of the Cambridge Phenomenon.

The Incubator has been specifically designed to support fast growing businesses and entrepreneurs and follows on from Barclays' launch of its High Growth and Entrepreneurs' proposition, supporting UK scale-ups and their founders, in direct response to Britain's scale up gap. Barclays Eagle Labs will help the UK compete on the global stage, helping scale-ups to rapidly grow and in turn help create thousands of new jobs for the UK economy.
The Incubator provides space for up to 82 businesspeople and is already proving popular with entrepreneurs who have moved into the newly refurbished space. Businesses will benefit from state-of the-art facilities and being co-located with other likeminded entrepreneurs. Residents will be able to access an extensive network of mentors and funding opportunities as they scale their businesses.

Incubator residents will be able to access support from the Cambridge Judge Business School (CJBS) including;
Weekly Entrepreneur in Residence Days
Regular workshops on key business practicalities such as Intellectual Property and Patenting
Regular opportunities to practise pitching to CJBS and Business Angels pitching to them.

Access to places at the CJBS Entrepreneurs' Education Weekend

Barclays recently launched a report with two of the world's most prominent research teams in entrepreneurship. For the first time, the Cambridge Judge Business School and the Saïd Business School have collaborated on a project that aims to contribute to fundamental change in helping UK entrepreneurs and scale-ups. Scale-up UK: Growing Businesses, Growing our Economy led by Professor Stelios Kavadias of the Cambridge Judge Business School, and Professor Thomas Hellmann of Oxford's Saïd Business School, examines a range of issues impacting the UK entrepreneurial ecosystem, including access to investor capital, debt and equity finance, leadership skills and business mentoring.

Ashok Vaswani, CEO of Barclays UK, said: "Bankers have traditionally been at the heart of the community, supporting people with their finances, and helping local businesses to grow. Our Eagle Labs initiative is reaffirming that core community role by enabling people to embrace new and emerging technology. We are passionate about helping individuals build digital skills and confidence which is key to helping the UK to thrive in this digital age. The roll out of Eagle Labs is a natural extension of our work to support this aim through our Digital Eagles, Tea & Teach and coding sessions."

Jane Galvin, Managing Director, Corporate Banking at Barclays Eastern Region, said: "The Barclays Eagle Lab Incubator in Cambridge will take our relationship with local entrepreneurs one step further providing them with working space and access to the tools and resources that will help them accelerate growth. Throughout the process of creating the Eagle Labs in Cambridge, we have valued the support a number of organisations have given us to make this happen, including Cambridge Science Centre and Cambridge Judge Business School."

Professor Christoph Loch, of Cambridge Judge Business School, said: "We are delighted to partner with Barclays Eagle Labs and to provide mentoring and coaching support to the Chesterton Road Incubator members. The combination of CJBS expertise in supporting early stage ventures with Barclays' commitment to scale them up will provide the UK with engines of growth."

Any businesses interested in taking space at Barclays Eagle Lab Incubator should contact Ben Storey benjamin.storey@barclays.com


 
MakerSpace

In December 2015, Barclays opened a Barclays Eagle Labs MakerSpace at its branch in Cherry Hinton Road, Cambridge.

In March 2016, Barclays announced its plan to introduce a national network of Eagle Labs, supporting UK businesses and entrepreneurs. Barclays Eagle Lab Incubators will specifically target high-growth firms and entrepreneurs, giving fast growing businesses the space and resources to help them succeed. They will be able to collaborate with other like-minded businesses, mentors and industry experts. Under its High Growth & Entrepreneurs initiative, Barclays launched two dedicated funds totalling £150million to specifically help innovative companies: Barclays' High Growth Venture Debt Fund and Innovation Finance.


About Barclays

Barclays is a transatlantic consumer, corporate and investment bank offering products and services across personal, corporate and investment banking, credit cards and wealth management, with a strong presence in our two home markets of the UK and the US.

With over 325 years of history and expertise in banking, Barclays operates in over 40 countries and employs approximately 130,000 people. Barclays moves, lends, invests and protects money for customers and clients worldwide.

For further information about Barclays, please visit www.home.barclays

*******

For further information, please contact:
Irene East, Media Relations
(D) +44 (0)1362 858454
(M) +44 (0)7775553313
(E) irene.east@barclays.com
___________________________________________________________
Barclays Bank in Cambridge provides support to our customers, for a range of diverse needs. From opening your first bank account at 11, to multi national corporations, we have the knowledge and passion to help you grow!