Global Inkjet Systems co-founder passes away
---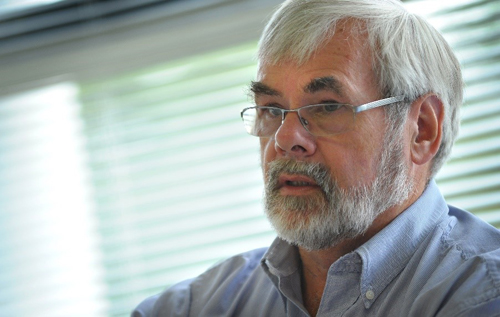 Jim Brotton, Global Inkjet Systems Co-Founder and Director, has passed away aged 69. Jim died on Saturday, 4th February 2017.
Add This Share Buttons
Jim co-founded Global Inkjet Systems (GIS) as Technical Director with Nick Geddes, Managing Director, in November 2006.  His expertise in electronics, alongside his Cambridge-based network of contacts and dedication to his work and colleagues, were instrumental in helping GIS achieve its 10 years of innovation and continued success in the industrial inkjet market today.
Jim was a strategic and innovative technologist and manager with a business focus. He held a Joint Hons. in Physics & Electronic Engineering from the University of Manchester and was a Chartered Engineer and Member of the Institute of Engineering and Technology.
He managed technology-based projects, portfolios, programmes and companies for over 40 years, from 1979 spending much of the time running high technology companies around Cambridge - including three startups Syscon Ltd, Syscon Vision Ltd and PM Resource Ltd.
Delivering technology solutions into companies such as The British Library, GCHQ, Ministry of Defence, Royal Ordnance Factory, Tektronix UK and the Medical Research Council, Jim also created a portfolio management infrastructure for the Department of Health and a Benefits Management System for the Home Office, managed two pan-European business programmes and had two products showcased on the BBC series Tomorrow's World.
Jim was a team leader and motivator, with a flexible attitude and capability. He was a builder of bridges and remover of barriers, with a calm and tenacious nature, high rate of achievement, delivering results and creating order out of chaos.  He will be sadly missed by his colleagues at GIS.
Nick Geddes, Managing Director, said: "My overriding memory of Jim is his always positive outlook on life, which was reflected in his approach to work. Many of us saw him as a friend and mentor, with an exceptional ability to get things done. His skill, optimism and belief in GIS helped us through many challenges and with him we have celebrated many successes. As co-founder, his invaluable contribution during the early years of the company helped set its course and spirit. We will miss Jim greatly and will continue to take the company forward as he would have wanted us to do."
A memorial service was held in Jim's honour in Cambridge, on 24th February, 2017.
http://www.globalinkjetsystems.com
______________________________________
Global Inkjet Systems provides industry leading technology to system builders integrating industrial inkjet printheads.
Global Inkjet Systems Ltd (GIS)