Newly qualified solicitors join law firm Hewitsons following traineeships
---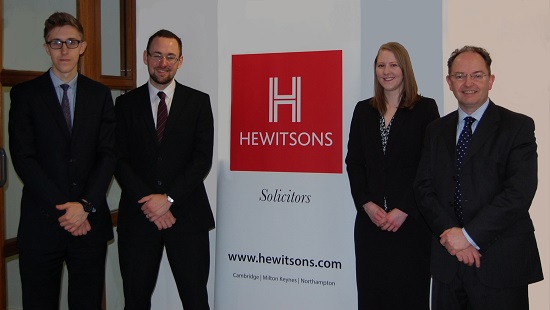 Three new solicitors have joined Hewitsons' Cambridge office, having completed traineeships with the law firm.
Add This Share Buttons
James Makin, Sarah Baron and Tobias Gleed-Owen each qualified within 18 months, rather than two years, having all gained some experience prior to joining Hewitsons.

They will now work in various departments within the firm's Newmarket Road office.

James, who trained in Hewitsons' Northampton office, has now joined the Cambridge team's Corporate & Employment Business Unit, majoring on commercial work.

James studied History at the University of Manchester, before undertaking legal placements with Hills Solicitors, Russell Jones & Walker, Forbes, and Hill Dickinson.

James said: "I really landed on my feet with a training contract, and now with a qualified position at a great firm.

"I have been able to rub shoulders with and learn from top legal experts in a friendly and warm environment, and am well-placed to keep developing and increasingly contribute to the success of Hewitsons."

Sarah, who trained in the firm's Cambridge office, has joined the team's Property Business Unit.

She studied Law and Criminology at the University of Sheffield, before taking up a paralegal post with Mills & Reeve.

Sarah said: "Hewitsons has been very supportive and I have really enjoyed completing my training contract with the firm. Hewitsons is a very friendly and approachable firm and I have seen why it has such a great reputation during my training contract.

"The Real Estate team I have joined has superb expertise and knowledge and I am very excited to become part of the team. It has been great to qualify at Hewitsons and I am very much looking forward to my future with the firm."

Tobias, known as Toby, has joined Hewitsons' Private Wealth Business Unit in Cambridge, having also trained there.

Toby studied Law at the University of Cambridge, before taking up a post as a paralegal with LGSS Law.

Toby said: "I am very pleased to join the Private Wealth team. It was an excellent training contract. It was clear that Hewitsons invests a lot in its trainees and was very keen to retain us all, and I am glad to now be able to take on a permanent role with the firm."

Hewitsons currently has another 10 trainees working across its four offices in Cambridge, London, Milton Keynes and Northampton. Another three are on track to qualify as solicitors in September.

Managing partner Colin Jones said: "I would like to congratulate James, Sarah and Toby on qualifying as solicitors. They have each shown a tremendous commitment to the legal profession, and I am delighted they have all chosen to stay with us. I have no doubt that each of them will have bright careers."

Caroline Lewis, Director of HR and Partnership Secretary at Hewitsons, added: "Our trainees are the firm's next generation of lawyers. It is a privilege to have them on board and we owe them the very best training that we can provide.

"The firm's ethos is to train to retain, and this year we have achieved that for the whole intake group. We are delighted they are all staying with us."

 Image: Trainee appointments (L-R) - James Makin, Tobias Gleed-Owen, Sarah Baron with Managing partner Colin Jones
*******

Further information

For more details about the firm please contact the Hewitsons press office on 01353 669939 or email Alison White or Will Ackermann at firstname.lastname@myriadpr.com
_____________________________________________________

 
We pride ourselves on delivering an outstanding service to a wide range of individuals, businesses and institutions including charities, educational and sports bodies. The firm's size and breadth of specialisms means each client receives the focus it requires.
We operate UK wide and have worldwide reach via our network of independent law firms, LawExchange International.