Law firm staff raise thousands for veterans in Tour de Hewitsons
---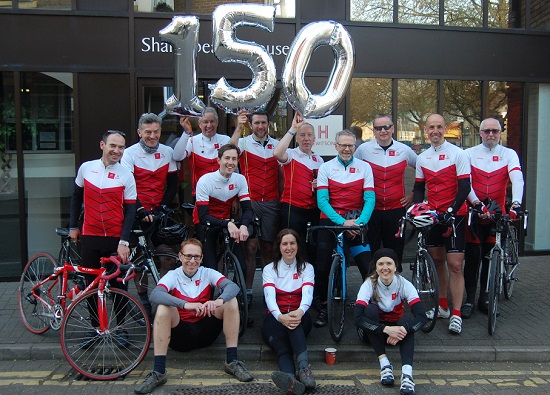 Staff at law firm Hewitsons raised thousands of pounds for veterans by cycling more than 150 miles over two days.
Add This Share Buttons
Team members from across the business pedalled between the firm's four offices – in London, Milton Keynes, Northampton and Cambridge – from April 6 to 7.

Already, the inaugural 'Tour de Hewitsons' has raised over £3,000 for national charity Veterans Aid – a Hewitsons client – with donations still coming in.

The money will go towards helping former servicemen and women in crisis with everything from finding a home and employment to tackling addiction and securing a visa.

Partner Edward Wheen, who organised and took part in the event, said: "We chose Veterans Aid not only for the amazing work they do, but also because a number of our staff have relatives who either have served or still serve with the military.

"It wasn't easy, but it was worth every sore muscle to support such a great cause. We're all extremely grateful to everyone who supported us, both on the day and by sponsoring us beforehand."

The group of 13 employees, which included partners, solicitors and personal assistants, set off from Hewitsons' London office, in Blackfriars, on April 6.

They then pedalled 82 miles to the firm's Milton Keynes office, in Midsummer Boulevard. Following an overnight stop in nearby Stony Stratford, the cyclists headed off to Hewitsons' Northampton office, in Billing Road.

They arrived at their final stop, the firm's Cambridge office, on Newmarket Road, that evening, after completing more than 150 miles.

Dr Hugh Milroy, CEO of Veterans Aid, said: "As ever, I am stunned by the things people are willing to do to raise awareness of our work, as well as the income necessary for us to fund it.

"Hewitsons gave us £600 last May, which was immediately put to good use. Typically, we spend around £582 on training for clients to get 'job ready' again, so together with this latest fundraising effort it's fair to say that they have helped us to change several lives."

To sponsor the team, please visit https://www.justgiving.com/fundraising/HewitsonMoorhead


*******

Further information

For more details about the firm please contact the Hewitsons/Hewitson Moorhead press office on 01353 669939 or email Alison White or Will Ackermann at firstname.lastname@myriadpr.com
________________________________________
We pride ourselves on delivering an outstanding service to a wide range of individuals, businesses and institutions including charities, educational and sports bodies. The firm's size and breadth of specialisms means each client receives the focus it requires.
We operate UK wide and have worldwide reach via our network of independent law firms, LawExchange International.