TTP unveils revolutionary industrial inkjet printing platform at InPrint USA 2017
---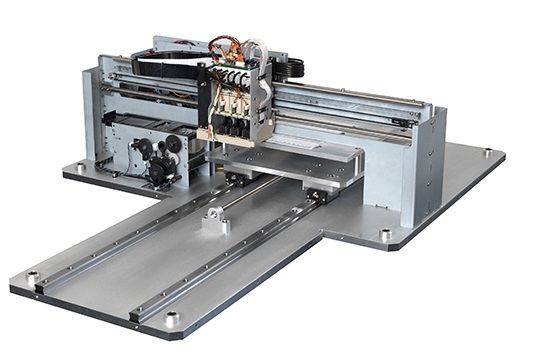 TTP will be showcasing its latest disruptive inkjet product, FlexJet at InPrint USA next week (25 April 2017).
Add This Share Buttons
Designed to slash the cost of entry into industrial colour inkjet printing, FlexJet offers the print quality and robust construction of high end industrial inkjet platforms, and the substrate flexibility of UV inks, through a design which can be manufactured for tens of thousands of dollars less than has previously been possible. FlexJet is built on proven mechanical and electronics modules, which enable time to market and development costs to be reduced dramatically.
Aimed at light industrial printing and commercial niches such as labelling, product decoration or garment printing, FlexJet is a modular and highly configurable print engine built around Ricoh's GH2220 printhead.
TTP customises and licenses the FlexJet design for its customers, who make the resulting printers in house or work with a contract manufacturer. This allows manufacturer margins to be removed or significantly reduced.
Applying decades of experience in the design of both consumer and high-end industrial printing systems, TTP's engineers can tailor FlexJet for any printer format from flatbed to web-based.
TTP provides a full range of manufacturing support services, in addition to design and development activities.
"We know how long it takes to bring a new product to market from scratch. That's why we are so excited to have created a platform from which multiple new inkjet applications can be derived, quickly, efficiently and with much lower investment in R&D" said Rob Day, Print Technology Business Manager at TTP.
TTP is currently working with a number of ink vendors, and has achieved excellent print quality and adhesion on a range of substrates.
An A3 flatbed prototype of FlexJet will be showcased at InPrint USA to demonstrate full colour printing at up to 600 x 600 dpi with 4-level greyscale, whilst 1200 dpi printing has been achieved in TTP's labs. Lead customers will be entering volume production early in 2018. Initial one-off R&D systems for lab trials and application development can be ordered at InPrint. If you would like to meet with one of TTP's specialist print engineers to discuss an application, please contact: rob.day(at) ttp.com
About TTP
TTP plc is Europe's leading technology and product development company. TTP works closely with its clients to create disruptive products based on advances in technology and engineering innovation. TTP's technology lies behind many products and processes in areas as diverse as communications, digital printing, instrumentation, consumer & industrial products, biotechnology, medical devices, cleantech and security systems.
www.ttp.com
*******
For more information contact:
TTP
Rob Day (enquiries@ttp.com)
+44 1763 262626
__________________________________________
To read more information, click
here.
TTP is an independent technology company where scientists and engineers collaborate to invent, design and develop new products and technologies. Working across a wide spectrum of industries including health, telecoms, industrials and consumer, TTP creates breakthrough solutions that bring strong commercial value to clients and the benefits of technology to all.