ASAMS plan for the future with cast iron guarantee
---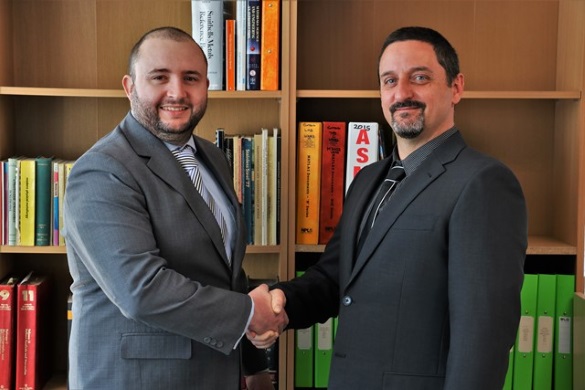 ASAMS Ltd announce the new ownership structure of the company as they expand their marketing efforts.
Add This Share Buttons
At the end of January Thomas Whiskin BSc MSc CEng MIMMM became a Director and Shareholder of ASAMS Ltd as part of their plan to exploit new markets and deliver against ambitious growth targets.
In addition, ASAMS have been working with Norfolk-based management consultancy US2U Consulting Ltd on their 2016 business planning and strategy, which has included releasing their first promotional video.
ASAMS Ltd is an independent ISO 17025 UKAS accredited metals testing laboratory based in Great Yarmouth offering services to multiple industries including the oil, gas and renewables industries.
Founded in 1989 ASAMS has been providing excellent customer service and reliable results for over 25 years to local, national and international clients.
The restructure of the company ownership and business planning supports ASAMS' vision of being the first choice for quality, personal service, speed and accuracy in metals testing, and having the highest standards in all that they do.
Existing owner and Director Andrew Page (pictured, right, with Thomas, left) said, "It is fantastic to have one of the country's leading Metallurgists as part of the Management team. Thomas is an expert at metal failure investigations and ensuring quality in all that we do. He is driven to always find pragmatic solutions for our customers."
Thomas said, "I am excited to help grow the company, deliver excellent customer service and create opportunities for more high skilled jobs."
ASAMS are also pleased to introduce their newly-adopted ASAMS company strapline which underpins all that they stand for:
Amazing
Service
Accurate
Measurement
Satisfaction Guaranteed
Visit ASAMS.co.uk to watch their promotional video and find out more about the company, what they can do to help you, and to see what their clients have to say about them!
"It has been great to see how much ASAMS has developed since they began working with US2U Consulting and we look forward to scaling their marketing strategy further during 2017" said US2U Consulting Director Rachel Blackburn.
US2U Consulting is a forward thinking Management Consultancy offering key solutions which make for better business practice and management in any organisation. Our successful growth has been built on the ability of our Consultants to achieve results, and the reputation this has created with our clients.