Free parking at Park & Ride sites from 1 April as £1 charge is lifted
---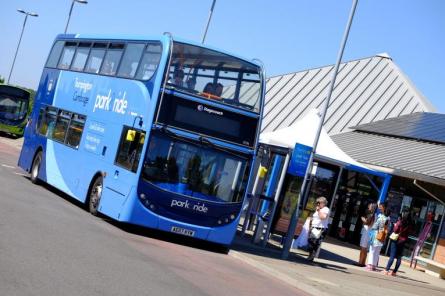 Motorists will benefit from free parking at Cambridge's seven Park & Ride sites from 1 April.
The £1 parking fee is being removed next month to encourage more people to get out of their cars and use greener and more sustainable modes of transport to travel into Cambridge city centre.
The Greater Cambridge Partnership and Cambridgeshire County Council agreed to split the cost of the shortfall from the removal of the parking charge, with the GCP contributing £530,000 for an initial three year period. This arrangement will be reviewed after three years.
A key aim of the Great Cambridge Partnership, working within the Combined Authority's strategic transport strategy, is to make travelling by sustainable means – public transport, cycling or walking – in and around Cambridge an attractive option for more people, helping to reduce congestion and improve air quality.
Councillor Francis Burkitt, Chair of the Greater Cambridge Partnership, said: "Parking should be free at these important transport interchanges, to encourage people to get out of their cars and use public transport: buses, the guided bus or, in time hopefully, autonomous shuttles and the CAM Metro championed by the Combined Authority.
"It's absolutely right that the GCP should use its resources to stimulate and encourage more modal shift in this way, and I'm delighted that, from 1 April, parking at all seven sites will be free."
There have been a number of improvements made at the sites in recent months to make it easier for people to access the bus services.
Almost 100 new cycle lockers have been installed to enable cyclists to securely store their bikes and hop on the bus to travel into the city, and further lockers will be installed in the coming months.
There is also no longer a need to queue at a machine for a ticket, as passengers can buy all their tickets from the bus driver - as all buses now accept contactless payments as well as cash.
Meanwhile, the Guided Busway, which serves the Trumpington, Longstanton and St Ives sites, recently reached a milestone of carrying four million people over a 12 month period, taking the total to 22 million busway journeys since it opened in 2011. 
Councillor Ian Bates, Cambridgeshire County Council's Chair of the Economy and Environment Committee and Greater Cambridge Partnership Board Member, said: "We see the removal of the £1 parking fee as a positive move to continue to make the Park & Ride the first transport choice for people coming into the city.
"We've listened carefully to our residents and want to encourage people to use more sustainable methods of transport. We're committed to reducing congestion and improving air quality for everyone."
The seven sites are those at Babraham Road, Madingley Road, Milton, Newmarket Road, Trumpington, Longstanton and St Ives.
To read more information, click
here.
The Greater Cambridge Partnership is the local delivery body for a City Deal with central Government, bringing powers and investment, worth up to £1 billion over 15 years, to vital improvements in infrastructure, supporting and accelerating the creation of 44,000 new jobs, 33,500 new homes and 420 additional apprenticeships.
Greater Cambridge Partnership