Introducing >SudoHack - a new challenge from Allia
---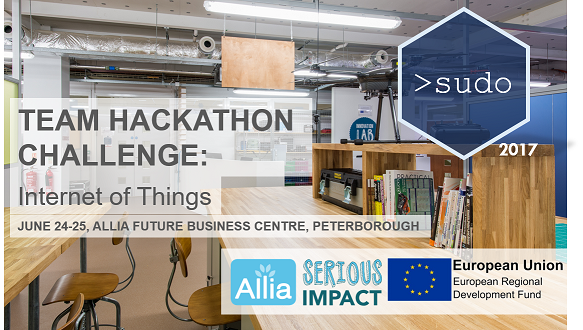 >SudoHack weekend, 24-25 June, challenges teams to solve global challenges, in just 32 hours, using Internet of Things.
Add This Share Buttons
Could you solve a local or global challenge using the Internet of Things (IoT) in just 32 hours?
This is the question being posed by Allia in the latest instalment of their Serious Impact Challenge Weekends. Over the weekend of 24-25 June, >SudoHack will challenge teams to develop a solution to a pressing problem facing people, planet or place, using the Internet of Things (IoT) and making use of one of the country's leading prototyping facilities, at the Allia Future Business Centre in Peterborough.
Teams will have access to an IoT 'starter pack' including RaspberryPi and Arduino micro PCs, with the opportunity to test solutions using integrated LoRa, Weightless P and Weightless N LPWAN systems at the Innovation Lab.
The overnight event follows the success of Allia's 'Cambridge Hack', a transport themed Challenge Weekend run in partnership with Cambridge University Technology and Enterprise Club (CUTEC). The winning team, 'Ditch', received an all-expenses paid trip to the Y4PT conference in Montreal, where they not only presented their idea, but won.
'The Internet of Things is growing exponentially, and so is its potential to make a positive impact on people, planet or place.' Says Paul Hughes, Director of Enterprise Support at Allia.
He continued, 'we want to encourage >SudoHack participants to leverage this growing technology and create innovative solutions to local and global challenges, in just 32 hours. At their disposal will be all of the amazing kit in the Innovation Lab, with experts on hand to host workshops and offer support'
Teams for the >SudoHack will arrive at the centre for a welcome and introduction to the facilities on Saturday morning. Over the following 32 hours, with meals and snacks provided, they will choose their challenge then design, prototype and test their solution before giving a live demo to an expert panel on Sunday afternoon.
Winning teams will be selected for each challenge, as well as an overall winner for the best demo of the weekend, who will walk away with £500 to develop their idea.
Anyone interested in taking their idea forward after the weekend will also be able to arrange a meeting with one of the Serious Impact team, to offer advice on their next steps.
Team spaces for >SudoHack are available to groups of four to six, for more information and to register visit https://www.sudohack2017.com/
Businesses who are interested in supporting the event are invited to get in touch at info@sudohack2017.com.
____________________________________________________
To read more information, click
here.
Allia is a not-for-profit organisation that supports businesses - through flexible workspace, social finance and free business support - so that they can grow and create positive impact, on their communities and on the planet.