EACH thanks supporters during Volunteers' Week
---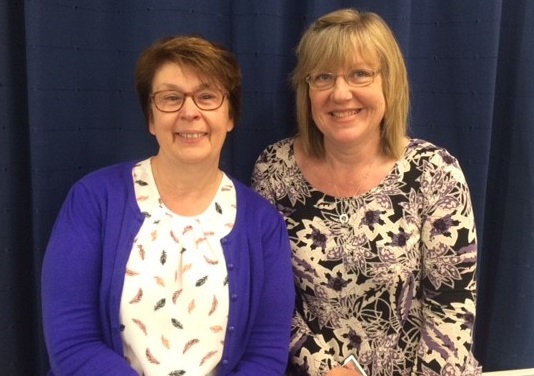 East Anglia's Children's Hospices (EACH) is celebrating Volunteers' Week (1-7 June) by recognising and thanking its 1,300 volunteers.
Add This Share Buttons
EACH relies on volunteers across all areas of its work to help generate income via fundraising and its shops, maintain hospice gardens and support families with daily household tasks through its Help at Home scheme.

Mandy Clements (pictured right), a teaching assistant who lives in Milton, has been working two mornings a week at the EACH shop in Cambridge every school holidays since July 2014.

She said: "It's a very busy shop and I thoroughly enjoy working there. The staff are extremely friendly and grateful for what I do."

It was for those reasons Mandy's friend and fellow teaching assistant, Pat Dunn (left), decided last year that she also would like to volunteer at a charity shop.

Mandy told Kate Beddard, the EACH Cambridge Shop Manager, that Pat was considering which charity to approach. Kate encouraged her to phone Pat and, as she lived just a five-minute walk from the shop, she was able to drop in immediately.

With Mandy to provide a reference, Pat was signed up on the spot. Her induction took 15 minutes and by 9.30am she was fully involved as part of the team – possibly the quickest volunteer sign up ever!
Pat, like Mandy, works a few spare hours in the school holidays. Their service is invaluable.

Mandy explained: "I cover all aspects while there, including sorting, pricing, steaming, putting things on display and greeting customers bringing in goods."

Pat said: "I work mainly out the back of the shop sorting donated stock. It's a nice place, a good atmosphere and a good way to fill your time – you have fun helping out."

Hannah Diaper, EACH Volunteer Development Manager said: "We want to take the opportunity this week to recognise and celebrate the difference that volunteers like Mandy and Pat make to the charity and the families that access our care services.

"As another example, our Help at Home scheme in Suffolk has volunteers matched with 20 local families and they support them with household tasks such as cleaning, shopping and gardening. Families tell us this is a huge help, enabling them to spend time nursing their child or simply being a family.

"Volunteers help us in so many ways, bringing new skills and experience and we are grateful for their time and their continued support."

Anyone who is interested in volunteering for EACH can visit www.each.org.uk or call 01223 205183.


________________________________________
East Anglia's Children's Hospices (EACH) aims to maximise the quality of life for children and young people with a life-limiting or life-threatening condition, and to support their families.
East Anglia's Children's Hospices (EACH)