PragmatIC expands executive team
---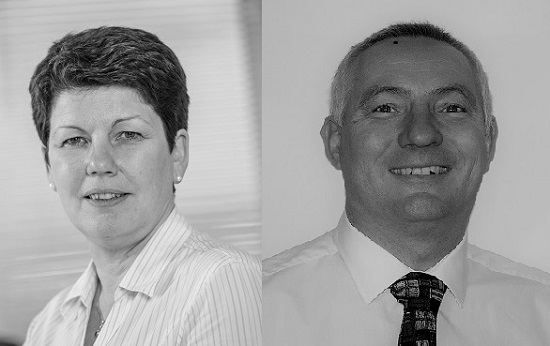 PragmatIC, a world leader in ultra low cost flexible electronics, announces the appointment of two new senior executives.
Add This Share Buttons
PragmatIC is delighted to welcome two additions to their executive team: Ken Williamson as Chief Operating Officer, based in Sedgefield, and Gillian Ewers as VP Marketing, based in Cambridge.
Ken has more than 35 years' experience within the semiconductor and electronics manufacturing industries, including four years in Cambridge working on flexible electronics technologies. He brings with him a profound knowledge across all aspects of high-tech manufacturing as well as a large network of professional contacts. Additionally, having successfully run his own engineering and management consulting business since 2008, he has a wealth of operational experience in taking technology companies into high volume manufacturing.
Gillian is a very experienced marketing professional with a track record of launching new products to market on time in competitive high tech businesses. She brings a wealth of knowledge of delivering strategic roadmaps, marketing materials and product life cycle management across multiple sectors including semiconductors and digital inkjet printing, at companies including Texas Instruments, Dialog, CSR and Xaar.
Scott White (CEO) commented "I am delighted that Ken and Gillian have joined PragmatIC. The company has increased headcount by over 25% in the past six months, and these new appointments reflect our progress towards operational scale-up with a more active marketing profile."
http://www.pragmaticprinting.com/
_____________________________________
PragmatIC is a world leader in ultra-low-cost flexible electronics. Our unique technology platform enables innovators to create novel solutions to everyday problems that are beyond the scope of conventional electronics. Our ConnectIC® family of flexible integrated circuits (FlexICs) are thinner than a human hair and extend proven applications such as RFID and NFC into mass market use cases, enabling the potential for trillions of smart objects that can engage with consumers and their environments. Our novel, differentiated products are being adopted by a growing base of global companies across diverse markets, including consumer goods, games, retail, pharmaceutical and security. Alternatively, designers can create their own application-specific flexible devices using our FlexIC Foundry™ offering at a fraction of the cost and time required for traditional silicon circuits, opening up multiple new markets beyond RFID. These FlexICs are manufactured on our revolutionary FlexLogIC® production system, a highly scalable manufacturing model for cost-effective high-volume production, achieved with orders of magnitude less capital investment and operating cost compared to a traditional silicon IC fab. PragmatIC is headquartered in Cambridge, UK, with our first billion-unit production facility in Sedgefield. Shareholders include Cambridge Innovation Capital, Arm and Avery Dennison.