'This is why I let my customers run my business'
---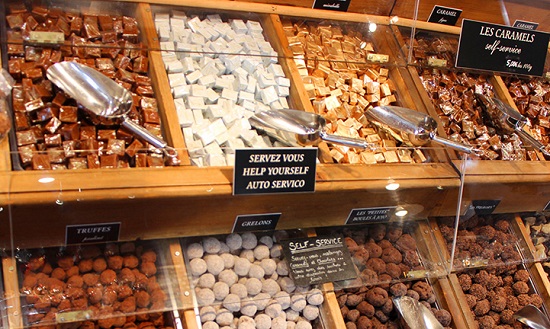 Think businesses provide and consumers consume? Think again. In today's world, your customers can be part of the whole journey.
Add This Share Buttons
What do a Mongolian stir-fry restaurant, a discount broker and a lab specialising in home-test kits have in common? They're all innovative services that base their success on customers' participation in the service delivery – from choosing ingredients to taking their own blood samples.
But how much should you let customers do for themselves – and what drives that decision?
 "It's all about the customer journey," says Cambridge Judge Business School Professor Stylianos Kavadias. "Businesses have come to realise letting customers take control – for example using self-service tills in supermarkets – is no longer about saving money, but giving customers the optimum experience. But to do that you need to understand exactly which tasks you do for the customers, and which you let them do for themselves."
This is perfectly illustrated by the Genghis Khan Mongolian Grill in Toronto, where diners choose from a variety of ingredients and create their own recipe for the chef to cook. Two thousand miles away, San Diego's famous Gaslamp Steak Place lets customers not only choose, but grill their own meat.
Contrasting this, customers further north at Eatsa in San Francisco place their orders on tablets and wait at hatches to take their own meals and cutlery to their table – thus undertaking all the service roles except the cooking.
"These restaurants all delegate varying amounts of the service element to their customers," says Kavadias. "The secret is knowing how far to go."
The answer may lie in his recent research. Kavadias, director of the School's Entrepreneurship Centre, studied these restaurants and a number of other businesses in hospitality, finance and healthcare. He then created a formula for each organisation to identify a series of "touchpoints" along the customer journey and work out which of these is a good place to keep, or relinquish, control.
"On the plus side, customers are a cheap source of labour and delegating tasks to them, such as checking out their own shopping, can save you money," says Kavadias. "On the minus side, customer input brings many variables – they can interact with you in complex and uncertain ways."
Several factors determine how the optimum level of delegation is achieved, says Kavadias – among them the cost of each individual service touchpoint and whether the provider has an "expertise advantage" over the customer.
Kavadias and his fellow researcher, Ioannis Bellos from George Mason University in Virginia, also found that the optimum level of customer delegation depends on whether the business is a routine service, where the outcome must conform to a particular standard (such as in finance), or a non-routine service, where outcome success is subjective (such as restaurant customer satisfaction).
"All providers prefer to control steps that are inexpensive to provide and where they have an expertise advantage over the customer," says Kavadias. "But we found routine service businesses benefit from controlling the areas where they have an expertise advantage, and therefore should look at each of those touchpoints individually. In non-routine, subjective outcome services, businesses do better to look at the customer journey and the core service as a whole, rather than in blocks – even if one of those blocks means allowing the customer to take control where the provider holds an expertise advantage."
Hence the success of Gaslamp: "Clearly the chef has more expertise than virtually every customer, but the restaurant is delegating the task of cooking as part of the overall customer experience. But the restaurant must be aware that the heterogeneity of customers means those with lower culinary abilities may be nervous about cooking food, which will impact on that positive experience."
Kavadias and Bellos found the level to which businesses relinquishing control to the customer follows the same patterns in other industries: for example, discount brokers such as Charles Schwab offer no advice but simply invest as their customers instruct them, placing the responsibility of the wisdom of such investments purely at the customer's door. And in healthcare, patients can undergo tests at a surgery, or may find it more convenient to take their own samples and post them to a service provider.
"The vital aspect in all these industries is identifying which touchpoints offer the best opportunities to hand control to the consumer, and ensuring all the touchpoints correlate," says Kavadias. "A few years ago Amtrak wanted to redesign its train seats for the Boston-New York journey. But as they began, they realised that it was important to look holistically at the whole customer experience, even from before you bought the ticket, all the way back to finding out where to buy a ticket. They realised that if any of those initial touchpoints give a negative experience, that's not going to be solved by how comfy your seat is. They designed the seat but did it within the context of the entire customer journey.
"Similarly Starbucks don't sell the highest end coffee, but they don't have to – they created the whole idea of sitting down in cool surroundings on comfortable seats with jazz music. The ambience means the coffee is only one part of that experience."
And in a world of social media where all transactions are rated and disseminated immediately, Kavadias says everything now counts as a service industry. "And services are co-created – created and consumed at the same time," he says. "People are moving away from the notion of businesses as providers of things. Organisations have to work out how to best serve their customers. Organisers realise customers don't care about buying a quarter-inch drill, what they really care about is making a quarter-inch hole, as famously declared by the late T. Levitt a marketing pioneer from HBS in the 1960s. It's all about service and working out how to generate the best possible customer experience."
Find out more
Visit Professor Stylianos Kavadias's faculty webpage
Read "When should customers control service delivery? Implications for service design" by Bellos and Kavadias (2017) via the Social Sciences Research Network website
Learn more about the Operations and Technology Management subject group


_____________________________________________
To read more information, click
here.
Cambridge Judge Business School is in the business of transformation - of individuals, of organisations and society.
Cambridge Judge Business School, University of Cambridge