Microfluidics launches new M815 pilot scale microfluidizer
---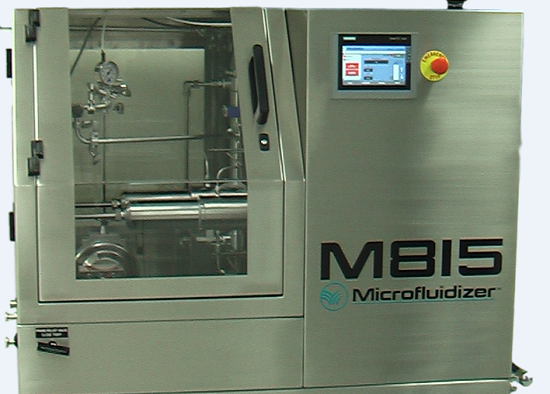 Microfluidics, leading manufacturer of high-pressure homogenizers and Analytik partner, recently launched a pilot scale device, the M815 Biopharma Microfluidizer.
Add This Share Buttons
Unique Microfluidics engineering maintains consistent process pressure, making sure all material is subjected to the same treatment. The product's compact design, ease of mobility and small batch capacity ensures cost-effective production with batch-to-batch process repeatability.
The device is recommended for non-sterile processing of:
Cell disruption
Nanoemulsions
Nanodispersions
Microencapsulation
Deagglomeration
Analytik product expert James Anderson said: "Building on customer feedback and demand, the new M815 Microfluidizer has been designed from the ground up to fill a gap between the M110EH and the M700 series machines. The M815 represents the next generation of Microfluidizer pilot/production machines with modernized digital control and design and features based around meeting specific customer requirements in GMP laboratories. "
For more information about the M815 Biopharma Microfluidizer, please contact Product Specialist James Anderson
_________________________________________________
To read more information, click
here.
Analytik specialises in cutting-edge scientific instruments for Spectroscopy, Spectral Imaging, Remote Sensing, Particle Characterisation, High Shear Homogenisation, Continuous Flow Chemical Reactors, Digital Phenotyping & Imaging and more.