Anthias Consulting partners with Ellutia Chromatography Solutions
---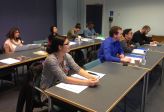 Anthias Consulting is pleased to announce its partnership with global gas chromatography solutions provider Ellutia, based in Ely, Cambridgeshire UK.
Add This Share Buttons
As part of this partnership, Ellutia Chromatography Solutions is providing a training venue for Anthias Consulting's training courses.
The first courses to be hosted by Ellutia are two classroom-based, theoretical courses in October:
1-day Absolute Basics of GC & GC-MS – 13th October 2017
This course provides an introduction to Gas Chromatography and Mass Spectrometry (GC-MS) for complete beginners.
5-day Complete GC & GC-MS – 16th October 2017
This course offers a complete training solution enabling delegates to understand their Gas Chromatograph or GC-MS instrument, develop applications, troubleshoot and maintain it.
The courses can be attended independently, or combined. The courses are scheduled to run consecutively; with the one-day course starting on a Friday and the five-day course following on the Monday, after the weekend break, making this a complete training solution and convenient for overseas delegates.
The courses are classroom-based covering all the essential theory and will include visuals aids of instrument parts and consumables, to help put the theory into context. Attendees will gain practical insights and tips and tricks which they can apply directly to their analyses.
The training venue is in close proximity to the Cathedral city of Ely, near the university town of Cambridge and is served by a direct rail connection to London making it an attractive location for overseas delegates.
Anthias Consulting regularly trains delegates from around the world, transferring knowledge to analysts within a broad range of industries.
The collaboration will extend the reach of Anthias Consulting's high-quality training and consultancy services.
Diane Turner, Senior Consultant and Director of Anthias Consulting said, "We are excited to be partnering with Ellutia. Their global outlook mirrors ours and we look forward to working together."
Based in Cambridgeshire, UK, Anthias Consulting Limited are experts in the separation sciences in the fields of Gas Chromatography (GC), Liquid Chromatography (LC), Mass Spectrometry (GC-MS and LC-MS) and other analytical techniques. We offer independent training and consultancy across a variety of applications and industries to manufacturers, laboratory analysts and technicians, PhD students and consultants, across all levels of experience. To learn more about Anthias Consulting, visit www.anthias.co.uk.
Ellutia
Based in Ely, Cambridgeshire, UK, Ellutia (formerly Cambridge Scientific Instruments Ltd) have been developing and manufacturing instrumentation to provide chromatography solutions for over 20 years. Ellutia supplies its light, compact, highly sensitive GCs to a broad range of markets; from education and brewing, to materials testing and forensics. To learn more about Ellutia, visit www.ellutia.com.
Independent experts in analytical science providing consulting and training in Gas Chromatography, Liquid Chromatography, Mass Spectrometry, Inductively Coupled Plasma, Spectroscopy, Mass Spectrometry Imaging, Physical & Structural Properties of Molecules and all their related techniques.