Sensors in Medicine 2017 - post conference summary
---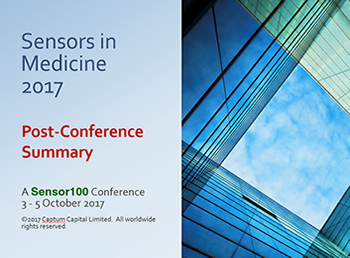 A short summary of Sensors in Medicine 2017, which was held last month in London, is now available.
Sensors in Medicine 2017 ws held in London on 3-5 October 2017.  The three days of the conference covered:
Sensors for glucose monitoring and diabetes care
Sensors for infectious diseases and Point-of-Care
Sensors for Cancer Diagnosis
The Post-Conference Summary provides an overview of the speakers' presentations which were of the uniformly high standard which has come to characterise the Sensors in Medicine conference series.
To read more information, click
here.
Captum Capital is an innovative consulting company, which facilitates the development of emerging life science companies. Captum provides MasterClasses in technology valuation and business modelling. The company founded Sensor100, an international network of people and organisations active in the development and commercialisation of bio- and chemo-sensors.