'Lookout Call' supports CPSL MIND
---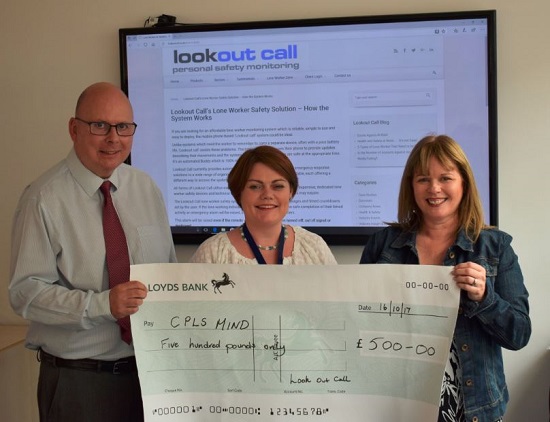 Leading mental health charity receives welcome donation from lone worker safety specialists Lookout Call.
Cambridgeshire, Peterborough and South Lincolnshire MIND (CPSL MIND) was delighted to receive a donation of £500 from C3 (Lookout Call).
The cheque was presented to Zoe Doherty by Brian Caddy, who said: "We are very pleased to support CPSL MIND at a time when mental health awareness is so important and specialist charities like MIND are providing vital services which greatly assist the NHS."
CPSL MIND deployed Lookout Call in 2012 to monitor the safety of its lone workers and their usage of the system  - almost 10,000 uses this year - is impressive. Zoe Doherty commented: "The increasing use of Lookout Call demonstrates just how busy our community workers have become and how seriously CPSL MIND treats their duty of care."    
The charity considered various lone worker systems but chose Lookout Call because the system is easy to use and offers great value for money.
Image: Brian Caddy presenting MIND's Zoe Doherty with donation
To read more information, click
here.

C3 have a rich history of providing specialist computer telephony platforms for more than 30 years, supplying some of the largest UK and Worldwide companies with PCI-DSS Payment, Multi-Channel and Virtual Contact Centers, IVR call flows and Telephone Voice Recognition. COVID 19 led to a rethink in business operation trends with remote workers leading to migration of onsite solutions to cloud based, CCaaS, CPaaS and UCaaS deployments. C3's core technology-agnostic software gives their customers businesses the edge in competitive markets and helped to overcome the technical challenges of moving to the cloud .