Mark Layzell speaks at Cambridge Network breakfast meeting
---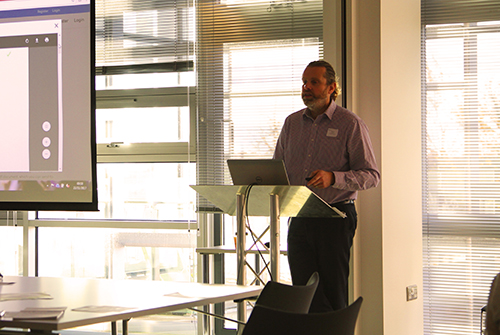 HiTeam CEO Mark Layzell talks to a group of small business owners at Cambridge Network's latest Breakfast Networking event.
Last week, Mark Layzell of HiTeam gave a speech at The Hauser Forum in front of a group of Cambridge small business owners. Mark spoke about how effective digital marketing and search engine optimisation can change how businesses find clients and grow their business.
Included in his presentation was a live demonstration of the Web Works Well free online audit website review. This was well received by the group, with multiple business owners trying it out for themselves. Mark said "I knew the web tool was good, but I didn't realise it would be that well received, I can't wait to offer fantastic services to our customers." Other business owners called the website review "Genius" and "useful".
Overall the meeting was a success; Mark addressed many issues that Dan Ince of Brandworks brought up in his previous presentation. Dan Ince was especially interested in the Web Works Well product and was impressed by it. Additionally the bacon rolls were delicious!
HIteam® helps businesses and the people within them achieve greater success.