IWM Duxford invites families to go behind the scenes and become aerospace engineers
---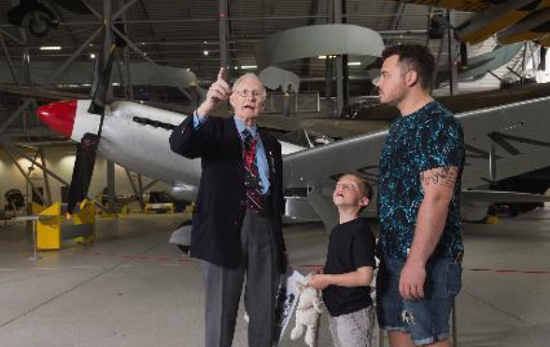 This summer at IWM Duxford, families will meet war veterans, conserve museum objects and build their own aerodynamic paper planes.
From meeting Second World War evacuee John Kershaw to hearing stories from Robert Johnson, a child in London during the Blitz, families can hear first-hand extraordinary stories of war and conflict from veterans and eyewitnesses every Thursday during the summer holidays at IWM Duxford.
Every Wednesday and Friday throughout August, families can take the challenge of creating the perfect paper aeroplane, drawing inspiration from IWM Duxford's awe-inspiring exhibitions of aircraft, from the mighty Spitfire to the supersonic passenger airliner Concorde.
The museum's conservators need help to keep iconic aircraft in tip-top condition, and are looking for willing aeroplane investigators.  Families are invited to go behind the ropes, get hands-on and learn how IWM Duxford looks after aeroplanes, from famous Second World War aircraft to a one-of-a-kind Cold War aircraft, the Victor. Visitors can see how IWM conserves historic aircraft by getting up close, searching for mini-beasts and using specialist tools to care for original objects.
Duxford Aviation Society invites families on board the Avro York, a transport aircraft used during the Berlin Airlift in the Cold War. Visitors will learn more about how the aircraft was involved in the Berlin Blockade, discover how to load an aircraft properly through a load-master game, and learn how to navigate using the basic principles of dead reckoning. Families can also have a go at handling a kite whilst learning the theory of flight.
As part of a trip to IWM Duxford this summer, visitors can walk through the same hangars and buildings as those who served at the RAF air base during the First World War, Second World War and the Cold War, and can see aircraft take to the skies from the historic airfield. Hundreds of aircraft and objects are on display, with iconic aircraft ranging from a Lancaster bomber to an SR-71 Blackbird spy plane.
A new addition to the collection on display is the Tornado GR4, a combat jet deployed by the RAF in Afghanistan and most recently in counter-ISIS operations in the Middle East. Visitors can get up close to the Tornado, an aircraft that is still being deployed in RAF operations today – a true piece of living history.
Image: A veteran recounts tales of life in wartime in front of aircraft in the AirSpace exhibition, IWM Duxford.© IWM
IWM Duxford offers a unique and remarkable range of conferencing and events facilities, including the contemporary AirSpace Conference Centre.