Still time to nominate businesses for the 'Cambridge News' top 130 celebration
---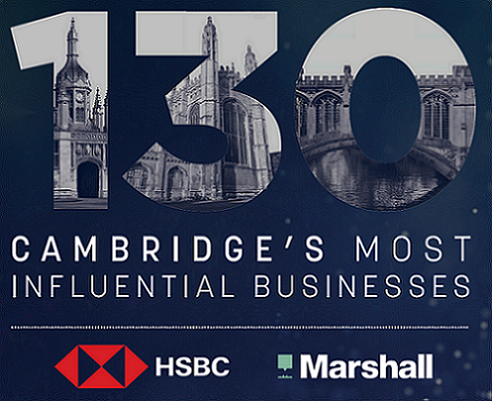 As part of the Cambridge News' 130th anniversary this year, it wants to celebrate the region's top 130 businesses.
Nominations are flooding in as the News searches for the region's 130 most influential companies, but there's still time for your firm to get involved. 
The Cambridge News says: "As part of our130th birthday celebrations, this year we want to recognise 130 local businesses that have made a positive impact on the region over that period – whether through their contribution to the local economy, their outstanding customer service or simply because they are just representative of the area. Nominations are open now for the event, which is sponsored by HSBC and Marshall Group, and the 130 chosen businesses will be profiled in the News later this year."
Christopher Walkinshaw, group corporate communications director of Marshall of Cambridge, said: "We are delighted to be one of the sponsors of the Cambridge News' Most Influential Businesses event. Cambridge is a remarkable city with world-leading businesses across a wide range of sectors, creating jobs and opportunities, making a significant contribution to the local and national economy and ensuring that Cambridge remains an extraordinary place to live and work." 
Cambridge is, of course, well-known as a world leader in the fields of technology and life sciences, but the region's business scene encompasses many other sectors, and includes outstanding companies ranging from sole traders and start-ups to corporations with a global footprint. 
News editor-in-chief David Bartlett said: "Cambridge is a special place because of its people and the bright minds that launch businesses, run companies, and innovate here."We wanted to do something to celebrate the 130th anniversary of Cambridge News as a business that has been at the heart of the community since 1888. 
"We may be one of the oldest businesses in the city, but we want to celebrate the best of Cambridge and those that have made an impact over that period. 
"I'm really looking forward to celebrating all those businesses at a special event at Queens' College, Cambridge, in October."
Jason Smithers, area director at HSBC, said: "We are delighted to sponsor the search for Cambridge's 130 most Influential Businesses. HSBC have been part of the Cambridge business community for over 100 years and its core strengths in innovation and international focus very much match those of Cambridge businesses." 
The nomination period will run until September 14. The winners will be invited to a special networking event, which is being held at Queens' College on Wednesday, October 17. To enter, visit cambridgeshirelive.co.uk/cambridge130.
If you have a suggestion for a company that you think should be nominated, you can tweet it using the hashtag #Cambridge130.
The Cambridge News is published daily to a circulation of 15,000 (2017)