Qualcomm makes it easier to develop wireless earbuds and hearables featuring Amazon Alexa
---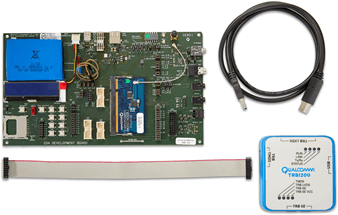 New Reference Design, Based on the Flagship Qualcomm® QCC5100-series Bluetooth Audio System-on-Chip, Helps Manufacturers Create Innovative Headsets with Amazon Alexa
Qualcomm Technologies International, Ltd, a subsidiary of Qualcomm Incorporated (NASDAQ: QCOM), today announced the industry's first qualified end-to-end Bluetooth Smart Headset reference design featuring push-button activation support for Alexa for users of Android phones with the Alexa app. Based on Qualcomm Technologies International's most advanced family of Bluetooth audio chips (QCC5100-series), the reference design includes virtually all the key hardware and software required for manufacturers to help them develop advanced Bluetooth headsets more efficiently and cost-effectively. In addition to support for Alexa, the solution also supports ultra-low power consumption for extended playback time and battery life, as well as Qualcomm® cVc™ noise reduction technology designed for superior audio and voice service capabilities. Manufacturers can also add support for active noise cancellation and Qualcomm® aptX™ HD high-resolution wireless audio.
The Qualcomm® Smart Headset Development Kit is the first Bluetooth Smart Headset reference design built with support for the Alexa Mobile Accessory Kit, a protocol that runs over Bluetooth and is designed to allow users to easily connect Bluetooth-enabled audio devices with Alexa via the Alexa app. This means device makers no longer need to oversee the bulk of coding for their Alexa integration or to add any communication hardware beyond Bluetooth, which helps to reduce cost and accelerates development time.
"Our consumer research shows that four out of five consumers have embraced voice services, but the vast majority are also looking for superb audio quality. The Qualcomm Smart Headset reference design brings this and more together, helping consumers to take advantage of Alexa on-the-go, without the need to interact with their phone," said Anthony Murray, senior vice president and general manager, voice & music, Qualcomm Technologies International, Ltd. "With this solution, we expect to support companies big and small to develop innovative and exciting headsets covering a range of styles featuring Alexa."
"Qualcomm Technologies International's headset reference design provides manufacturers with a simple way to build rich, voice-forward experiences into hearable devices," said Priya Abani, Director of the Alexa Voice Service. "We're excited to have a solution that will help our customers to bring Alexa with them wherever they go."
Qualcomm Technologies International's Bluetooth SoCs have been advancing the audio industry for more than 15 years and are used in audio devices from virtually all leading consumer electronics brands. The Company's Smart Headset reference design helps customers by addressing major design challenges associated with developing small form factor wireless headsets, including audio quality, RF and antenna design, power consumption and PCB layout.
The QCC5100-series SoC architecture is designed to deliver low-power consumption and optimized to ensure longer audio playback time for both voice calls and music streaming. A dedicated application processor sub-system, dual DSP architecture and next-generation audio development kit software provide a powerful foundation for the development of highly differentiated audio products. The SoC family is also engineered to support concurrent software operation, meaning that users can transition smoothly between functions such as listening to music, making calls, running biometric sensors and using voice services. Qualcomm cVc noise reduction technology helps to deliver accurate speech recognition even in very challenging acoustic environments, as well as to provide crisp voice communication for both parties in a phone call.
The Qualcomm Smart Headset reference design with Alexa is available now. Customers can use the reference design to help them evaluate building Alexa on-the-go experiences and can easily step up and begin development with a comprehensive suite of software and tools to customize or develop their own headset products.
For more information and to get started building with Qualcomm Technology International, Ltd.'s solutions, please visit https://www.qualcomm.com/products/qualcomm-smart-headset-platform.
Resources
Amazon Alexa Earbud Reference Design Rendering
Amazon Alexa Hearables Development Board
Amazon Reference Design Infographic
Qualcomm® Smart Headset Reference Design for Amazon Alexa Voice Services (AVS)
To read more information, click
here.
Qualcomm Incorporated (NASDAQ: QCOM) is the world leader in 3G and next-generation mobile technologies. For more than 30 years, Qualcomm ideas and inventions have driven the evolution of digital communications, linking people everywhere more closely to information, entertainment and each other.