EACH receives keys to new wheelchair accessible vehicle courtesy of £19.7k grant
---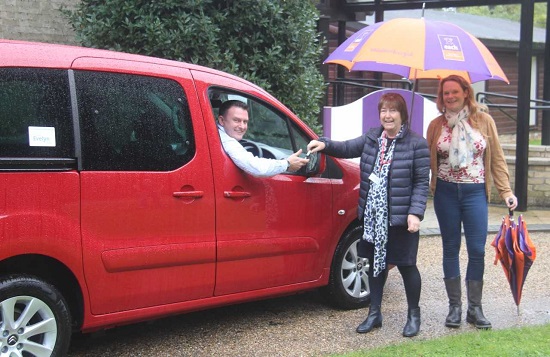 East Anglia's Children's Hospices (EACH) has a new wheelchair accessible vehicle thanks to a grant from the Evelyn Trust.
The grant-making charity, supporting medical research plus health and wellbeing projects in Cambridgeshire, gave EACH £19,734 to buy a red Citroën Berlingo.
Anna Hunt, EACH Trusts & Foundations Manager, explained the vehicle would help provide care at home and ensure short breaks are proper breaks for both children and their families.
She said: "When children stay with us for short breaks, we feel it's important they continue their normal activities, including going to social groups and on day excursions. To facilitate midweek short breaks, we collect children from school and drop them off the next day."
The Citroën replaces a Renault Kangoo that, after serving EACH well for over 10 years, is now beyond economical repair and to be taken out of service.
Catherine Thomas, from the Evelyn Trust, said: "The Evelyn Trust, as part of their annual grant giving, were happy to support the purchase of a replacement wheelchair accessible vehicle based at Milton. They're delighted it will provide a valuable resource for the children who require individual transport to maintain involvement in a variety of activities."
The Evelyn Trust make grants of up to £250,000, totalling between £500,000 and about £1.5 million, each year.
Anna added: "We'd like to say a big thank you to the Evelyn Trust for backing us. We need to raise over £6 million from fundraising each year, so support like this is really invaluable."
EACH currently offers care to 127 children and young people from its Milton hospice, as well as support for 119 family members. More than half its care and support is delivered in families' homes and the community. For more information, visit www.each.org.uk.
East Anglia's Children's Hospices (EACH) aims to maximise the quality of life for children and young people with a life-limiting or life-threatening condition, and to support their families.
East Anglia's Children's Hospices (EACH)