Meet the schoolchildren going on strike against climate change
---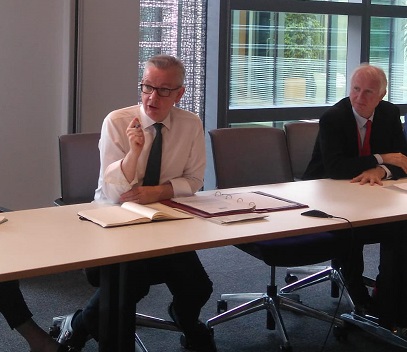 Around the world, millions of schoolchildren are going on strike to protest global inaction on Climate Change.
Some of these children have reached out to Thoughtriver to explain more about their protests and the Climate Crisis, so its team has invited them to give a talk.
Find out why they feel the need to miss school to protest, the hard facts on Climate Change and how they feel about their future as the group of people who will be the most affected.
They have already presented to Michael Gove and other government ministers, so this talk is sure to be professional, to the point and highly informative.
It tales place at 4 PM on Tuesday 10th September at Merlin Place, Milton Road, Cambridge, CB4 0DP and everyone is welcome.
Image: Michael Gove and Cambridge MP Daniel Zeichner when they meet Cambridge schoolchildren
Intelligent Contract Pre-screening
Automated and bespoke interrogation of your contracts, providing a risk assessment and recommended next steps.