How to motivate your team in 2020 without spending £££££s
---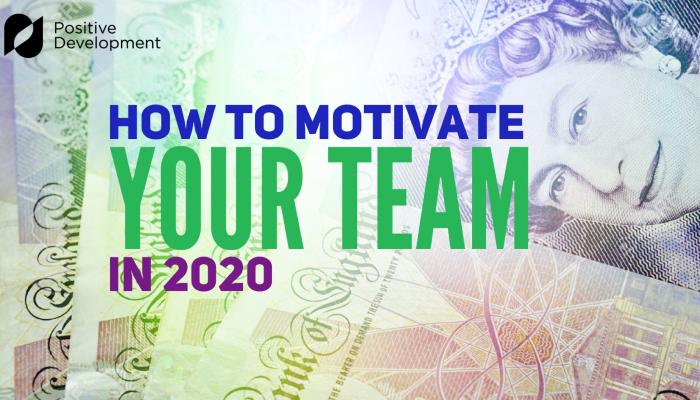 People go to work for nine different reasons, and money is only one of them!
Guy Shackleton of Positive Development writes:
If you were to lift the lid of an organisation that was experiencing steady growth, you will notice two distinct groups of people. The first group is the Leadership Team who define and articulate the company's purpose, vision and goals. The second group is the Workforce, a team of talented individuals who are responsible for delivering results.
As well as clarifying the company's vision, creating well-defined goals and supporting the team to achieve those goals, successful Leaders appreciate what motivates the people in their team and work smarter to maintain a productive and stable work environment.
Great Leaders are aware that people come to work for a number of reasons; 9 to be precise, and money is only 1 of them! Check out the nine reasons below and see which resonate with you the most…
To make a difference
Driven by a need to do something worthwhile and make a positive mark on the world. This will vary from person to person because everyone has a unique set of values, but satisfaction is gained from contributing something meaningful, regardless of pay or recognition.
To be free and choose your own direction
Having the freedom and the autonomy to choose how goals are achieved. Satisfaction is gained from making your own decisions without close supervision or restrictive parameters.
To create and improve
Being encouraged to create or improve something (E.g. a product, service, or process). Satisfaction is gained from using creative ideas to solve problems and thriving in a culture of variety and change.
To apply expertise
Drawn by a desire to continually learn and grow as a Subject Matter Expert in an area of interest. Satisfaction is gained from putting your skills to good use and demonstrating true mastery!
To make money
Attracted by how money provides more choices and can fuel an above average standard of living. Satisfaction is gained from being financially rewarded for your achievements; the greater the results, the bigger the reward!
To be in control
Driven by a sense of responsibility and a desire to control a situation and how resources are used. Satisfaction is gained from having more power and greater influence over the state of play.
To be recognised
Inspired by the recognition, respect and admiration earned from people in the work environment. Satisfaction is gained from receiving appreciation for your efforts.
To belong in a team
Fuelled by the camaraderie and sense of support that your team provides. Satisfaction is gained from having good relationships with your colleagues and supportive management.
To be certain about the future
Contented by clarity and certainty about what the future holds. Satisfaction is gained from having consistency, a routine and a predictable career path in a stable organisation. 
Everyone has a unique mix of reasons why they come to work, with more important reasons trumping others. Many Leaders fall into the trap of assuming that other people share their own beliefs, needs and views, and therefore communicate, reward and motivate people in a way that they feel is "the right way". More often than not, one person's perspective of "the right way" is very different to another person's!
A massive advantage is won by Leaders who are aware of the reasons why the people in their team come to work. This information allows them to assign roles and responsibilities to the appropriate people, communicate more effectively and harness peoples' motivation to achieve business goals. Positive Development uses Motivational Maps® to help organisations capture this information and make good use of it. As well as creating a motivational profile per person, it also measures how satisfied each person currently is – extremely useful to monitor people's satisfaction and focus your attention time on where it matters most.
If you want to learn more about motivating your team and how Positive Development can support you, call 0203 797 6412 for a free consultation so we can listen to your requirements. We look forward to hearing from you!
Executive Coaching for senior managers and leaders to achieve greater results by clarifying objectives, eliminating barriers and invigorating motivation.
We cultivate happy and motivated people by providing insights and development pathways that deliver positive outcomes. We use Motivational Maps®, a unique diagnostic tool, and NLP best practice for insight and strategies to improve wellbeing at work, productivity and personal fulfilment.