Scrutton Bland pledges support to Purple Tuesday
---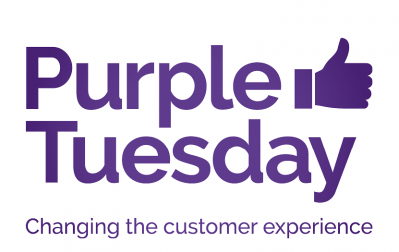 Scrutton Bland joins 2000+ businesses and organisations making changes to support disabled customers.
Scrutton Bland is joining the likes of Sainsbury's, Sky, West Ham United and M&S to improve the customer experience for disabled people by supporting Purple Tuesday today (12th November) by raising awareness.
New research published for Purple Tuesday reveals that poor customer service and a lack of staff understanding are among the key barriers preventing disabled consumers purchasing goods and services. The research has prompted calls for businesses and organisations to rethink how they target disabled consumers and their families, whose spending power – the so-called Purple Pound – is estimated to be £249 billion every year.
Tim O'Connor, Corporate Services Partner said: "Purple Tuesday is a fantastic initiative that highlights the importance for all organisations to meet the needs of disabled consumers.  We value our disabled customers which is why we are committed to implementing changes that will improve their overall experience."
Seventy-five per cent of disabled people have had to leave a store or website, unable to go through with their purchase because of their disability1.
New research shows that most complaints from disabled people relate to experiences within the business/organisation premises, with disabled people more likely to spend money with organisations if they improve2:
staff understanding about different disabilities (56%)
the overall customer experience for disabled people (41%)
store/shop/location accessibility (41%)
website accessibility (16%)
More thanone in three disabled people (34%) said poor customer service prevented them from making a purchase, while 33% blamed a lack of understanding from staff about their needs. Some disabled respondents said improvements should include 'being treated the same as anyone else' and having 'knowledgeable staff'.
The research has led Purple Tuesday to call on organisations to focus on straightforward, low-cost solutions to improve the customer experience for disabled people – changes that go Beyond the Front Door. Of the 13.9 million disabled people in the UK, 80% have a hidden impairment, meaning improvements and enhancements are needed to improve access for disabled people, beyond having a ramp installed to help enter a site.
More than 2000 businesses, organisations and stores from a range of sectors have collectively pledged to make more than 3500 long-term changes to the customer experience as part of Purple Tuesday on 12 November.
Mike Adams OBE, Chief Executive of Purple, said: "Meeting the needs of disabled customers makes commercial sense for organisations of all sizes, from all sectors, but our message to organisations is: you don't have to spend big budgets to make lasting change. That's why we're urging organisations to focus on improvements that go 'beyond the front door'. Introducing staff training and improving website accessibility are low cost changes, but the difference to a company's bottom line – as well as to a disabled consumer's personal experience – can be significant.

"Purple Tuesday has more than doubled in size this year, with more than 2000 organisations from a variety of sectors making commitments to improve the customer experience for disabled people. These are long-term changes that will have a lasting impact for millions of customers – and improve the commercial opportunities for the organisations involved."
The purple pound is worth £249 billion and is rising by an average of 14% per annum, yet it is estimated that less than 10% of businesses have a targeted plan to access this disability market. 3 Purple Tuesday's research shows that more than 80% of disabled people say businesses could do more to be accessible and encourage them to spend money.
Organisations can contact Purple for advice on how they can improve their approach to disabled consumers. Example changes include:
Conducting an online audit of your website to improve accessibility
Training staff to know and understand how to communicate effectively with disabled customers
Getting front line staff to learn basic British Sign Langue skills to communicate with those customers from the deaf community
Conducting an on-site audit to ensure the physical space is suitable for every customer to get around the area easily
Improving wayfair signage around the facility
Introducing quiet hours on a regular basis to help people who struggle with music, tannoys and noise.
Last year more than 750 organisations participated in Purple Tuesday, making a collective 1,500 commitments to improve how they meet the needs of disabled consumers.
For more information on Purple Tuesday, please visit www.PurpleTuesday.org.uk
References
1 Extra Costs Commission: Final Report. Scope, March 2015
2 Research Conducted: 15/08/2019 - 22/08/2019. Sample: 501 respondents in the UK who consider themselves to be disabled.
3 Leading from the front, Disability and the role of the Board, KPMG, May 2018: https://assets.kpmg/content/dam/kpmg/uk/pdf/2018/05/leading-from-the-front-disability-and-the-role-of-the-board.pdf

The Scrutton Bland Group (Scrutton Bland) includes Scrutton Bland LLP, Scrutton Bland Financial Services Ltd, Scrutton Bland Insurance Brokers Ltd and Merrick Hill Commercial and is a provider of insurance broking, accountancy, tax, employees benefits and chartered independent financial advice. From offices in Colchester, Ipswich, Cambridge and Diss. Scrutton Bland serve a range of clients from small owner managed businesses to large corporate organisations and offers professional advice on personal investments through to work place pensions. Merrick Hill Commercial is a trading name of S. Merrick Hill (Commercial) Ltd.
About Purple Tuesday
Purple Tuesday 2019 is an international call to action focused on changing the customer experience for disabled people. It calls on organisations from all sectors and sizes, to take decisive practical actions to meet the needs of disabled customers. Purple Tuesday is part of Purple's vision for organisations to see disability as an opportunity – both in terms of existing and potential employees and customers – and to be part of addressing the inequality that exists for disabled people through increasing the accessibility of everything they do.
Scrutton Bland is a leading provider of financial services offering accountancy, audit, tax, insurance and independent financial advice to both commercial and private clients.