Hospice needs artic lorries and tippers to support Christmas Tree recycling scheme!
---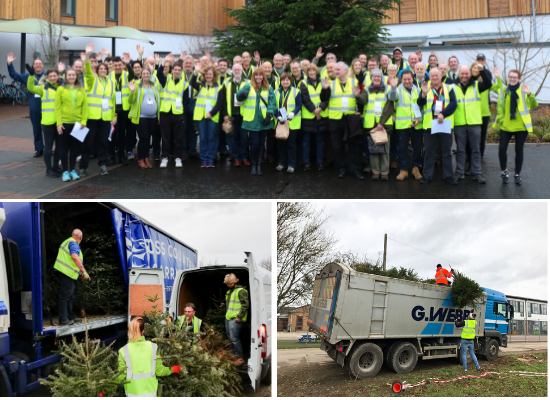 What Arthur Rank Hospice Charity really needs now, is five more artic lorries, larger trucks or tippers...
Arthur Rank Hospice Charity is asking the local community for their support with its annual Christmas Tree collection, which will take place on Thursday 9, Friday 10 and Saturday 11 January 2020.
It is the fifth year of the fundraising scheme, which last year saw more than 1800 pre-loved trees collected and composted, raising over £26,000 for the Hospice!! The scheme depends on a unique collaboration between the Arthur Rank Hospice Charity team, Just Helping, Cambridge City Council, local businesses and scores of volunteers who generously donate their time.  
This year's recycling scheme covers the CB1, CB2, CB3, CB4, CB5, CB22, CB23 and CB24 postcodes, and in exchange the Charity welcomes a donation to the Hospice.  This year, Arthur Rank Hospice Charity is hoping to collect in the region of 2000 trees and would love to raise £30,000!
After costs, 90% of the monies raised will go to the Hospice and the remaining 10% will be donated to other local charities chosen by volunteers who are generously offering their time to support the scheme.
There is one element of the plan which still requires some extra support as Chloe Christine-Wallis, Community Fundraiser explains:  "We're delighted that many of the volunteers and local businesses who took part in our 'treasure hunt for Christmas trees' and loaned us vehicles in previous years, are coming back to help us again in January 2020!  

"We also now have plenty of vans for collecting the trees from people's front gardens, drives and roadsides thanks to support from Cambridge Van Rental, Millcam Construction, Babraham Bioscience Technologies, Springboard and Cooke Curtis & Co and some independent businesses and van owners.

£However, what we really need now, is five more artic lorries, larger trucks or tippers, to pick up trees from van 'drop-off' points and transport them to Amey Cespa, the Council's waste management park near Waterbeach for composting.  G. Webb Haulage and Welch's transport are kindly sending drivers and a vehicle each day, but to ensure the collection days run like clockwork we do really need this extra support."
If you know someone who might be able to help, or have contacts within the haulage industry which you could like to share with the Hospice, please contact the fundraising team on 01223 675888 or by emailing fundraising@arhc.org.uk. 
If you'd like to volunteer to help for a few hours on one of the collection days, please contact us using the details above. 
If you live within the postcode areas listed and would like to register your tree for collection, please visit arhc.org.uk/treerecycling. Registrations close when capacity is reached or at 1pm Wednesday 8 January 2020.
Arthur Rank Hospice Charity supports people in Cambridgeshire living with an advanced serious illness or a life-limiting condition and those who need end-of-life care. Our 'Outstanding' services are provided free of charge to patients and their families.
We care for more than 4,100 patients each year at our Hospice in Cambridge, the Alan Hudson Day Treatment Centre in Wisbech and in patients' own homes via the Arthur Rank Community Team. This care supports people to improve their quality of life and fulfil their end of their life choices.
It will cost £10.5 million in 2021/2022 to run our services, which are provided free of charge to patients and their loved ones. We have currently secured £6.98 million from the NHS, meaning that £3.52 million needs to be raised through donations, fundraising activities and trading. We are extremely grateful to our local community for the continual dedication, commitment and generosity they show in supporting us to meet this target.
For further information, please visit arhc.org.uk
Arthur Rank Hospice Charity