Register now for the Global Legal Hackathon 2020 - London
---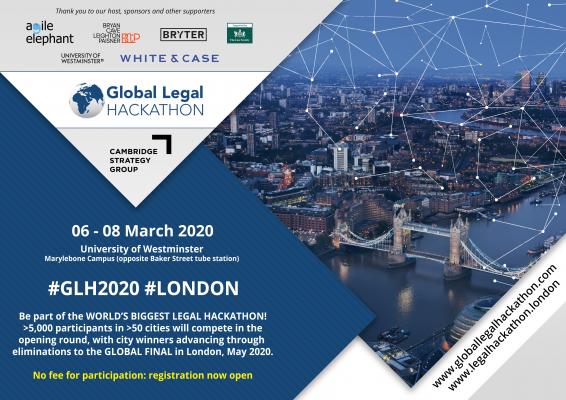 Registrations are now open for the 2020 Global Legal Hackathon (6-8 March) at the University of Westminster in London. 
Cambridge Strategy Group and Agile Elephant are once again hosting the London node of the Global Legal Hackathon.  The venue is again kindly provided by the University of Westminster, but at it's more modern Marylebone campus (near Baker Street tube station.) 
Now in its third year,  the Hackathon is gaining true momentum. And with the final in May being held in London (as opposed to New York in 2018  and 2019) this year promises to be even better than before.
The organisers say: "We need people in legal, tech, legaltech, coders, designers, topic experts, helpers ... anybody really who would like to join us for a fun and interesting weekend.  (There will be tea, coffee, pizza, sandwiches, beer & wine, some prizes ... and more.)  One sponsor is offering access to their code-free platform, so no need to shy away if you can't 'code.'  There is no fee to participate."
Register via this link or find lots more information on the London website.
If you have any queries or are interested in sponsoring, please contact Rob Millard or Dave Terrar.
Hope to see you there!
We are a business strategy and management consultancy, focused on professional service firms (mostly law firms) and other knowledge-intensive businesses.
Cambridge Strategy Group Limited