Meeting explores the elusive concept of creativity
---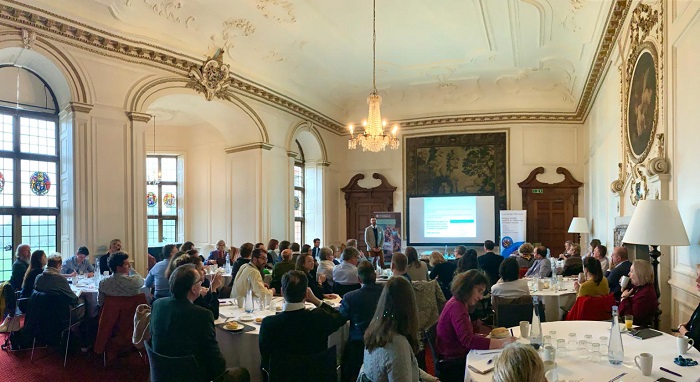 What is creativity? How can individuals and organisations harness it? And is creativity a game-changer in 2020?
These were the questions addressed at Cambridge Network's breakfast networking event this week, when philosopher and creativity theorist Dr Alex Carter of the University of Cambridge Institute of Continuing Education (ICE)*, admitted: "Some of the big issues we have today are because we don't understand the central concept of creativity.
"Creativity is a complex concept; it is not one thing. Similarly, there is no definitive definition of #creativity."
He said that while individuals might seek to be creative for self-enrichment or to 'risk-proof' their careers, businesses were trying to make sense of how they could implement creativity.  The meeting – held at the university's historic Madingley Hall – heard that creativity is the most sought-after soft skill for many companies, alongside the ability to collaborate and adapt.
Businesses want a creative workforce for competitive advantage, to develop disruptive technology, to cope with rapid change, or to innovate and create value without necessarily having to raise capital.
So, what is creativity? The audience suggested that it involved:
The unexpected
Imagination
The ability to take an old idea and put it in a new context, or to make unlikely connections
Lateral thinking.
All agreed that it was a complex concept, often borne of frustration or puzzlement. Dr Carter said it embodied:
Innovation
Ideation
Critical thinking
Anti fragility (the capacity to benefit from shocks, volatility or failures)
Problem-solving (avoiding mere novelty)
Disruption (we must often destroy to create).
"Crucially, making new things requires us to take risks – and risk implies the potential to fail," he explained. "Enabling creativity means ensuring people have permission to fail. This is not the same as resigning oneself to failure.
"If you are looking for any kind of success, it is necessary to embrace failure."
Collaboration was key to creativity in organisations, he added: "Meeting rooms are not the most creative spaces, partly because meetings are rarely a meeting of minds."
Meetings held outside, or while standing up, or based on discussions around a concrete object, for example a plan or a model, encourage us to think in practical, rather than abstract terms, he said.   But while there were some theories that attempted to structure the creative process, it was clear that they only worked for certain kinds of ideation. "Creative (and philosophical) thinking involves seeing the familiar as strange and the strange as familiar."
In organisations, it was important to trust that everyone had something to say. Creativity was a collective responsibility, so it was important to give everyone a voice, and to give them 'permission to fail'.
"No definition of creativity is definitive," he concluded, "and no one person has all the answers.
"Creativity can be a process and/ or a product. Creating is something that we do, but it is more often something that happens to us."
*Dr Alex Carter is Academic Director, Institute Teaching Officer in Philosophy, University of Cambridge Institute of Continuing Education
ICE has launched its first award-bearing course in creativity, bringing together people from a range of disciplines – philosophers, artists, playwrights and scientists – and it has reimagined the student-teacher relationship as one of co-creation.   Find out more about the Undergraduate Diploma in Creativity Theory, History and Philosophy
ICE is holding an Open Day on Saturday 4 April 2020. This is the perfect opportunity to have a look around, meet current tutors and students and get your questions answered. The day will include information sessions, taster lectures and topical talks from expert lecturers. Find out more at http://www.ice.cam.ac.uk/openday
Cambridge Network is a membership organisation based in the vibrant high technology cluster of Cambridge, UK. We bring people together - from business and academia - to meet each other and share ideas, encouraging collaboration and partnership for shared success.
Cambridge Network Limited