Cambs businessman celebrates 50 years with the IoD
---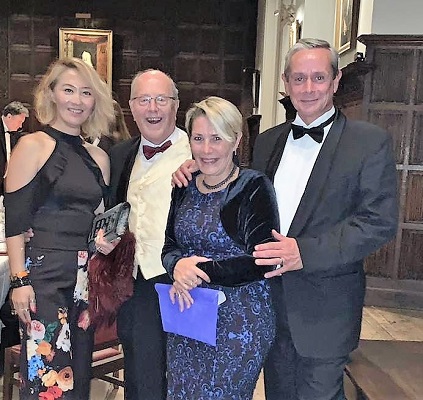 A Cambridgeshire businessman is marking 50 years as a member of the Institute of Directors (IoD).
Chartered accountant David Brown (pictured second left at an IoD dinner) started his career as an articled clerk earning £2 10 Shillings a week before joining the family civil engineering firm, East Anglian-based Biggs Wall and Co Ltd. David started his career with the family business from his grandfather's home in Muswell Hill, North London, working with his father in a shared office before the business expanded into one of the largest private pipelaying companies in the country and moved its headquarters from London to the region where its contracts were carried out.  
He joined the IoD in 1970 as a young financial director of Biggs Wall, the year the UK went decimal, when you could buy the average house for £4975 and the average weekly wage was £32.
In his 56-year career as a chartered accountant, David, who still practises from his St-Neots based firm, has seen significant events, from the eve of technology to IRA bombings at his London offices.
Since joining the IoD 50 years ago, David has been a core member of the organisation and its business community across the East of England, with some highlights, as he explains.
"I always enjoy visiting the IoD headquarters in Pall Mall and meeting other members in London and Cambridgeshire. It has been wonderful to connect with generations of business leaders, from student IoD members and young directors to old hands like myself and we can always learn from each other.
"I also particularly look forward to the annual IoD dinners, where I was recently delighted to be able to meet Lord Archer and discuss his books with him.'
With no signs of slowing down, David is a keen clarinet player and singer, who has performed as part of a choir at the Albert Hall in 2019 and chairs a number of charities.
At 78, David continues to run his business and look after his clients, and his inimitable work ethos seems to have passed down through generations; his son and grandson are both doctors, and his daughter is a nurse, all working on the front line for the NHS.
David's advice for businesses in the current climate? There is always light at the end of a tunnel, this pandemic will sort the good directors and organisations from the others, and they will emerge stronger, with new opportunities to grab"
David Sales, Chair of the IoD in the East of England said, "David is an incredible character and an inspiration to our members. The fact that he is still running a successful business, and enjoying it, while continuing to fulfil his personal ambitions is wonderful. We are proud and honoured that fifty years on, David still enjoys and values his membership of the IoD."
A membership organisation for Directors of organisations in Cambridgeshire. This is the local branch of the national IoD organisation.
Institute of Directors (Cambridgeshire)